Skip to content
Skip to navigation menu
Please wait....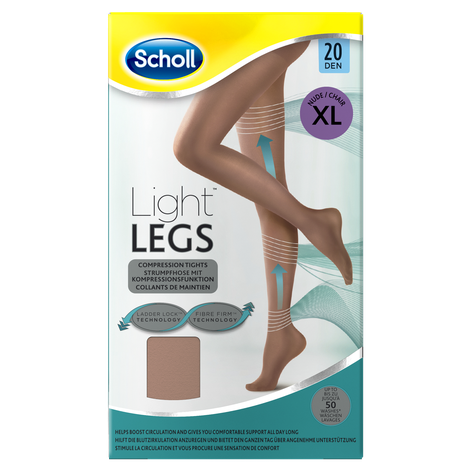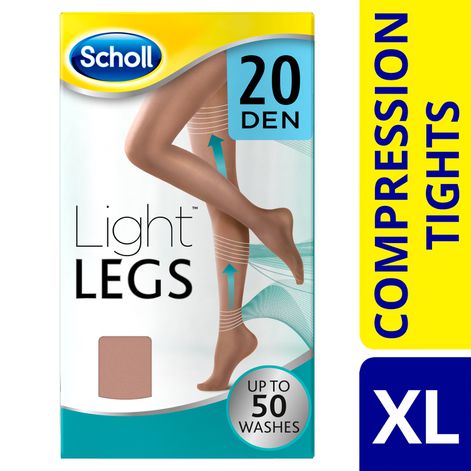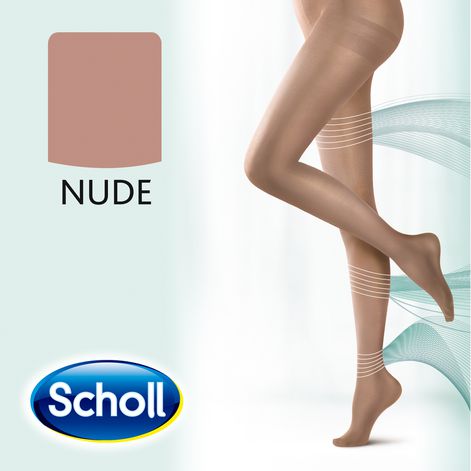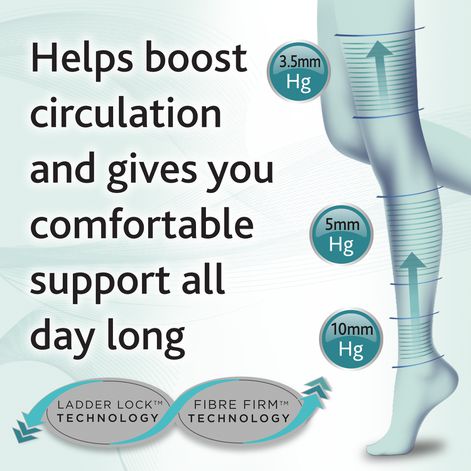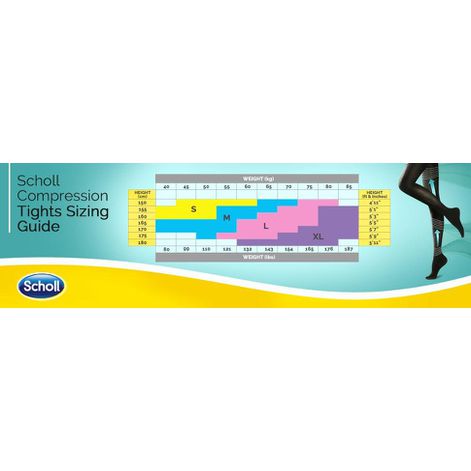 Scholl Extra Large Light Legs Compression Tights 20 Den Nude
One Pair Tights
Your legs never knew they could feel so great with these nude 20DN tights that look & feel fantastic.
Fibre Firm™ technology provides gradual compression from the ankle all the way up the leg


Breathable tights


Helps boost circulation and gives you perfectly shaped legs


Last up to 50 washes without losing shape and colour


20 Denier - Nude


Read More
New Scholl Light Legs tights with graduated compression helps boost circulation along the entire length of the legs to help prevent tired & achy legs. With super comfortable stretchable yarn that applies pressure to give you more shapely legs.
Delivery Costs
Standard Delivery (2-5 days) - £2.99
Express Delivery (1-2 days) - £6.99*
Free Delivery (2-5 days) - £0.00**
*orders placed after 2pm will be shipped on the following day.
** on orders over £30.00
Note: we do not deliver on Saturdays, Sundays and Bank Holidays.
Please note, we currently only deliver to addresses within UK Mainland
Tracking Information will be supplied for Standard and Express Delivery.
We will not provide tracking information for orders using free shipping.
This way you will know it is on its way and will be able to track its progress.
This product is not yet been reviewed
FAQs
| | |
| --- | --- |
| Q | Can I use lotions and creams with my Scholl Light Legs tights? |
| A | Yes. The Scholl Light Legs tights come with clear instructions on how to put them on, and this is not impacted by the use of lotions and cream on the legs. |
| | |
| --- | --- |
| Q | How does the Express delivery work? |
| A | If you choose our express delivery and place your order before 2pm, your order should arrive in 1-2 working days. Working Day means all days from Monday to Friday, but excludes Saturday and Sunday. For example an order placed before 2pm on Friday will be delivered on Tuesday-Wednesday. Orders placed on Saturday and Sunday will be delivered on Wednesday-Thursday. Note: we do not deliver on Saturdays, Sundays and Bank Holidays. |
| | |
| --- | --- |
| Q | How long can Scholl Light Legs last? |
| A | Scholl Light Legs 20 denier tights last up to 50 washes without losing shape and compression. The 60 denier tights last up to 100 washes without losing shape and colour. |
| | |
| --- | --- |
| Q | How long do standard deliveries take? |
| A | With our standard delivery we aim to deliver within 2-5 working days. |
| | |
| --- | --- |
| Q | How many hours daily should I wear my Scholl Light Legs tights to get the light legs feeling? |
| A | You can wear Scholl Light legs tights as many hours per day as you want. They are so comfortable and soft, that you might in fact want to keep them on longer than 8 hours. |
Q

How much does delivery cost?

A

Please note, we currently only deliver to addresses within UK Mainland.

Standard Delivery (2-4 days) - £2.99

Express Delivery (1-2 days) - £6.99*

Free Delivery (2-4 days) - £0.00**

*orders placed after 2pm will be shipped on the following day. Note: we do not deliver on Saturdays, Sundays and Bank Holidays

**on orders over £30
| | |
| --- | --- |
| Q | In what denier, colour and sizes do your Flight Socks & Light Legs come in? |
| A | Light Legs tights are available in opaque black (60DEN), sheer nude (20DEN) and sheer black (20DEN). They all come in four sizes: S, M, L and XL. Our Flight Socks come in 2 colours, natural sheer and, black. Natural sheer comes in sizes 4-6 and, 6-8. Black comes in sizes 3-6 and, 9.5-12 |
| | |
| --- | --- |
| Q | What are Flight Socks? |
| A | Scholl Flight Socks are below the knee stockings that apply gentle pressure to the ankle to help blood flow. They come in a variety of sizes and there are also different colours. |
| | |
| --- | --- |
| Q | What do "Scholl Light Legs" stand for? |
| A | Scholl Light Legs Hosiery are gentle gradient compression hosiery intended to help revitalise and relieve tired, heavy legs and to keep your legs feeling fantastic, firm and toned. |
| | |
| --- | --- |
| Q | What happens if I am out when delivery is attempted? |
| A | All orders will be delivered to the delivery address you have provided us. For express orders; In case our carrier cannot deliver your order, two additional delivery attempts will follow. In case our carrier still is not able to deliver your order he will provide you with instructions explaining how or where you can pick up your parcel. Standard delivery orders will be sent via Royal Mail and will follow your usual local process (typically collection from nearby depot). |
| | |
| --- | --- |
| Q | Why wear Scholl Light Legs? |
| A | With Scholl Light Legs your legs never knew they could feel and look so good. Our breathable tights help to revitalise and relieve tired, heavy legs. |
Back