Skip to content
Skip to navigation menu
Please wait....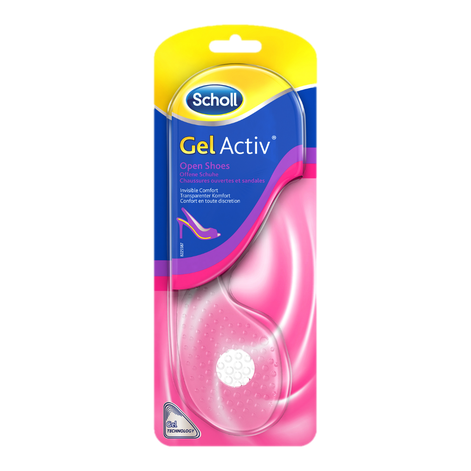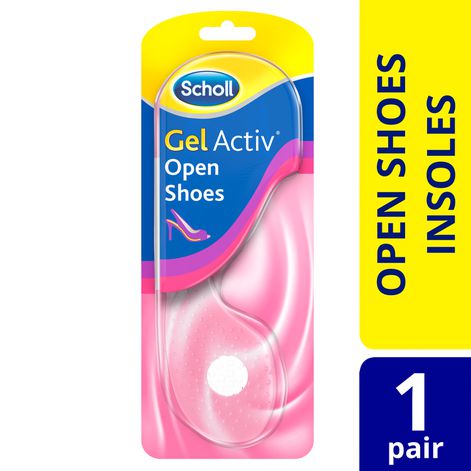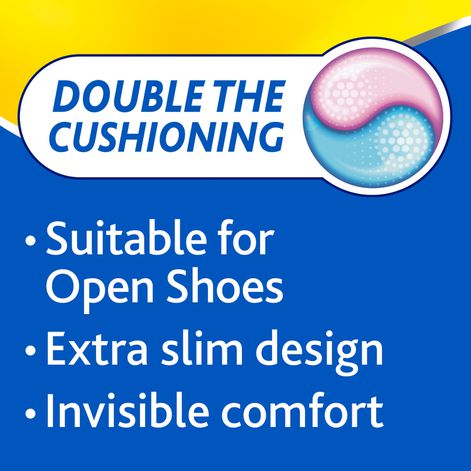 Scholl GelActiv Insoles Open Shoes
One Pair Insoles
Especially in open high heels the insoles need to be invisible. Therefore our insoles for open shoes are transparent and extra slim. The ultra-thin design prevents the toes from getting squashed.
Double the Cushioning


Cushioning Comfort for Open toe shoes or Sandals


Ultra soft gel arch relieves pressures off ball of foot


Non slip design ensures that your feet & insole stay firmly in place


Designed and assessed in consultation with foot care specialists


Read More
Transparent gel with an extra slim design is discreetly hidden when worn in open shoes.
Delivery Costs
Standard Delivery (2-5 days) - £2.99
Express Delivery (1-2 days) - £6.99*
Free Delivery (2-5 days) - £0.00**
*orders placed after 2pm will be shipped on the following day.
** on orders over £30.00
Note: we do not deliver on Saturdays, Sundays and Bank Holidays.
Please note, we currently only deliver to addresses within UK Mainland
Tracking Information will be supplied for Standard and Express Delivery.
We will not provide tracking information for orders using free shipping.
This way you will know it is on its way and will be able to track its progress.
This product is not yet been reviewed
FAQs
| | |
| --- | --- |
| Q | Are the insoles also suited for children? |
| A | There is no age limit for the use of our insoles. We have designed the insoles for full-grown people of adult age and should not be used in shoes that are smaller than the size guide on the insoles indicate, this is so cushioning occurs in the right parts of the foot. |
| | |
| --- | --- |
| Q | Are the Scholl GelActiv™ Work insoles breathable? |
| A | Our GelActiv Work insoles were designed with holes in the forefoot that could help provide some ventilation, however this depends on the type of shoe you are using with insoles.  |
| | |
| --- | --- |
| Q | Can I cut the insoles smaller, for example for shoe size 7? |
| A | Please refer to question 10 |
| | |
| --- | --- |
| Q | Can I wash the insoles? |
| A | Our insoles are not machine-washable. When you would like to clean your insole, wipe the insoles with a warm soapy cloth (do not soak). Ensure you dry them out fully before placing them back into the shoes. |
| | |
| --- | --- |
| Q | How can I dry the insoles if they are moist? |
| A | If your Scholl insoles are humid, we would recommend you remove them from the shoe and air them in a dry room. If the insoles are damaged by moisture, we recommend not using them further and look to purchase a replacement pair. |
| | |
| --- | --- |
| Q | How can one insole fit for different shoe sizes? |
| A | Your can cut your Scholl Insoles to size (GelActiv only). To do this, cut along the outlines to match the insoles to the different shoe sizes. You can find detailed instructions on how to cut the insoles on the inside of the packaging. |
| | |
| --- | --- |
| Q | How do I have to put the insole in the shoe? |
| A | Remove your existing insoles and replace them with our Scholl insoles. |
| | |
| --- | --- |
| Q | How does the Express delivery work? |
| A | If you choose our express delivery and place your order before 2pm, your order should arrive in 1-2 working days. Working Day means all days from Monday to Friday, but excludes Saturday and Sunday. For example an order placed before 2pm on Friday will be delivered on Tuesday-Wednesday. Orders placed on Saturday and Sunday will be delivered on Wednesday-Thursday. Note: we do not deliver on Saturdays, Sundays and Bank Holidays. |
| | |
| --- | --- |
| Q | How long do standard deliveries take? |
| A | With our standard delivery we aim to deliver within 2-5 working days. |
| | |
| --- | --- |
| Q | How long will my insoles last? |
| A | You should look to replace your insoles when they begin to show signs of wear. Purchasing a replacement pair every 4-6 months is recommended. |
Q

How much does delivery cost?

A

Please note, we currently only deliver to addresses within UK Mainland.

Standard Delivery (2-4 days) - £2.99

Express Delivery (1-2 days) - £6.99*

Free Delivery (2-4 days) - £0.00**

*orders placed after 2pm will be shipped on the following day. Note: we do not deliver on Saturdays, Sundays and Bank Holidays

**on orders over £30
| | |
| --- | --- |
| Q | Is there a difference between insoles for men and for women? |
| A | The difference is the size. That means if you are a woman who needs a bigger size you can use insoles for men, if you are a man who needs a smaller size you can use insoles for women. |
| | |
| --- | --- |
| Q | What happens if I am out when delivery is attempted? |
| A | All orders will be delivered to the delivery address you have provided us. For express orders; In case our carrier cannot deliver your order, two additional delivery attempts will follow. In case our carrier still is not able to deliver your order he will provide you with instructions explaining how or where you can pick up your parcel. Standard delivery orders will be sent via Royal Mail and will follow your usual local process (typically collection from nearby depot). |
| | |
| --- | --- |
| Q | What is the difference between GelActiv™ insoles and orthopaedic/orthotic insoles? |
| A | Orthopaedic and orthotic insoles are designed, among other aspects, for compensation of foot pathologies/position issues and the correction of false posture. They help to control or change the way your foot works, and can add support and relieve foot pain. As a rule they are recommended by an expert and often tailored to suit the exact shape of your foot. Scholl GelActiv™ insoles offer non-stop comfort all day long and are not to be confused with orthopaedic or orthotic insoles. If you are reliant on orthopaedic or orthotic insoles we recommend wearing them instead. |
| | |
| --- | --- |
| Q | When should I use an insole? |
| A | Scholl insoles are made for tired feet. They offer amazing comfort. For casual shoes, trainers or flats used for walking or daily activities. |
| | |
| --- | --- |
| Q | Where can I buy the insoles? |
| A | Our Scholl insoles are available to purchase on scholl.co.uk and through many leading retailers. |
| | |
| --- | --- |
| Q | Why is Scholl offering insoles? |
| A | When you stand, walk or perform other activities with your feet, these can get tired over a long time. Scholl is offering insoles to improve the comfort in your shoes and provide non-stop cushioning. |
| | |
| --- | --- |
| Q | Will my feet smell when using Scholl insoles? |
| A | Use of Scholl insoles should not have an impact on the odour of your feet. |
Back