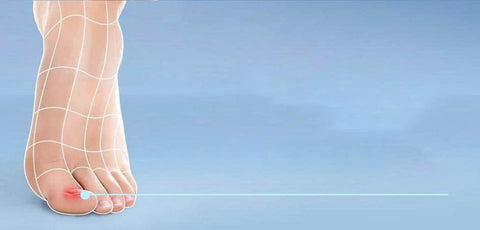 Understand and Manage: Fungal Nail
Toenails aren't always the prettiest of things, but when you add a fungal nail infection into the mix, they can become even less attractive. Infections aren't as rare as you might think, and while it's possible to hide unsightly, crumbly or yellowing nails, you're best off trying to treat your nails of the infection with our expert tips.
The Healthcare Professional in this video does not endorse any medicine products or brands. The Healthcare professional was paid by Scholl for their time in making this video.
WHAT IS FUNGAL NAIL?
Although fungal nail infections are common and generally harmless, they can be unpleasant and can take a long time to treat. Fungal nail infection occurs from a particular type of fungus in, under, or around the nail, and can follow a fungal skin infection.
WHAT ARE THE SYMPTOMS OF FUNGAL NAIL?
Infections usually start at the edge of the nail and appear as discoloured white and yellow streaks or flaky white patches on toenails. The streaks often spread to the centre, discolouring more of the nail. In severe cases it can cause the nail to lift away from the skin. Finally, the nail can become brittle and crumble away, causing pain and swelling to the surrounding skin and nail.
WHAT ARE THE SYMPTOM TRIGGERS?

As fungus often thrives in moist, dark and warm conditions, wearing trainers or shoes that make feet hot and sweaty for long periods of time makes the risk of infection higher. Fungal nail infections are also contagious and can spread in communal areas such as gyms and pools.
WHAT CAUSES FUNGAL NAIL?
You are more likely to get a fungal nail infection if you:
Fail to keep your feet clean and dry.

Wear shoes that make your feet hot and sweaty.

Walk around barefoot in communal areas such as changing rooms and pools.

Have damaged your nails (they are more likely to become infected).

Have had another form of fungal infection that can spread, e.g. athlete's foot.

Have another condition like diabetes or psoriasis that weakens the immune system.

Live in a hot or humid climate.
TOP TIPS FOR AVOIDING AND MANAGING FUNGAL NAIL?
You can help protect against fungal nail infections from occurring by:
Treating

any fungal infection you have, like athlete's foot, as it can cause a nail infection.

Wearing flip flops in public places

Avoiding towel, sock and shoe sharing

Not sharing nail clippers or scissors.

Replacing any old footwear that has been contaminated with fungus.

Wearing clean socks every day.

Avoiding shoes that make your feet hot and sweaty.

Keep your feet clean and dry
Please see a GP or Podiatrist if your fungal nail infection is severe and treatment hasn't worked, or if it has spread to other nails. If you have diabetes or any circulatory problems please speak to a Healthcare Professional before self treating.
To explore Scholl's related Fungal Nail product online, click here.
Schollmed Once Weekly Fungal Nail Treatment 5% w/v medicated nail lacquer. Contains Amorolfine. Always read the label.
Scholl Advance Athlete's Foot Cream. Contains Terbinafine. Always read the label.
UK/SC/0219/0024