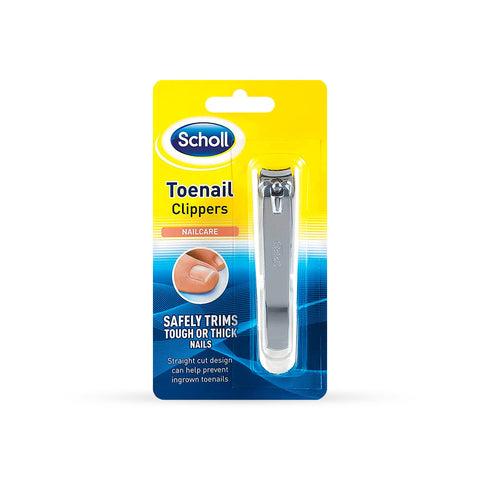 Fungal Nail
Toe Nail Clippers
NEXT DAY DELIVERY
Order within for next day delivery
Order before 2pm for next day delivery
Scholl Toe Nail Clippers are for thick and tough nails. They are designed for easy nail trimming on even the toughest and thickest toenails the sharp precision blade quickly cuts through hard toenails to leave one with a neat and professional finish.
The plastic case collects clippings for hygienic use and easy disposal
Caution. For external use only. Keep out of reach of children.
Firmly grip the scissors and trim toenails with care. Toenails are ideally cut after bathing or showering when they are soft and clean.
Never over trim toenails, always leave some nail length. After use, carefully wash scissors in warm water, rinse thoroughly and then dry with a towel. Store safely by deactivating the spring to close the blades.
WHAT ARE THE DELIVERY OPTIONS?
Standard Delivery: 3-5 working days
£3.99
Express Delivery: 1-2 working days
£5.99
All orders placed before 2pm Monday-Thursday will be shipped for next day. Orders placed before 2pm on Friday are not guaranteed to arrive Saturday but are guaranteed to arrive on Monday. Orders placed after 2pm on Friday will arrive Tuesday
All About Feet: Foot Care Tips, Advice & Latest News
You currently have no items in your cart.