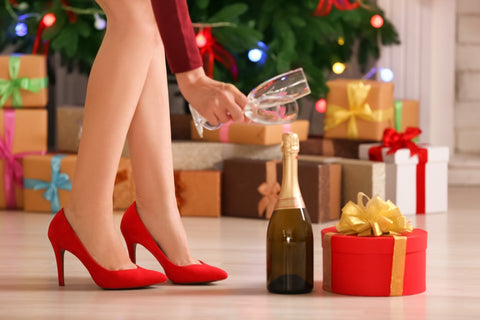 Celebrate The Festive Season In Heels
How to take the pain out of party shoes
Looking forward to showing off your killer heels at the Christmas office party, but worried they'll live up to their name? This year, instead of kicking off your heels in agony halfway through the night, why not treat your feet to Scholl GelActiv Insoles for extreme heels?
Specifically designed for heels higher than 8cm, they offer a gripping material with cushioning, support and a firm positioning for your foot. So even the highest of heels could last the whole night on the dancefloor.
If you're brave enough to buy brand new heels for the party season, you'll know this means the pain of 'breaking in' those shiny new shoes. The most beautiful are often the most painful and it's usually the balls of your feet and heels that suffer the most. Unless of course you pick up some Scholl Party Feet Heel Shields and Scholl Party Feet Ball of Foot cushions. They'll make the first steps in your new party heels more comfortable.
Are your everyday shoes working overtime?
What about before the party? If you're constantly on the move, even everyday work shoes with lower heels can cause your feet to ache. Adding a Scholl GelActiv Insole for everyday heels to your shoes can support the arch of your feet whilst ensuring optimum shock absorption. The non-slip design gives feet a firm grip, securing them in a comfortable position throughout the day.
Retail therapy for feet
While you're running around doing the big food shop, buying all those Christmas presents and maybe even treating yourself, don't forget your poor feet. Even if you're wearing flat shoes, dashing around on concrete, cobbles and hard floors can leave your feet achy and sore. Luckily, Scholl GelActiv Flat Shoes Insoles provide padding with gel technology to give your feet some well-deserved cushioning comfort. Uniquely designed for a flat shoe, these insoles are a perfect fit for a long day's festive shopping.