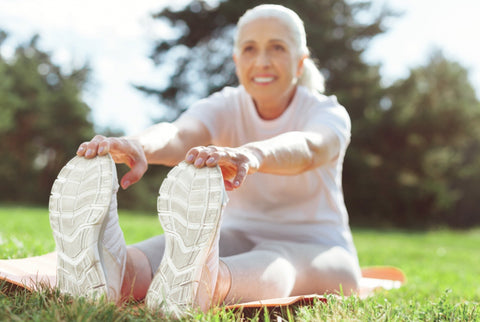 How to Choose the Right Insoles For You
A guide to choosing the right insoles for your favourite shoes
Find out how a range of different insoles can benefit your feet - relieving pain, reducing tiredness and making the shoes you wear every day more comfortable.
Choose the right insoles by shoe style
Get general foot care tips for flexible, relaxed feet
Tips for your feet
If you are experiencing any kind of foot pain or your feet feel tired in general, try the following exercise and relaxation techniques to improve their flexibility and mobility:
Sit down on a chair and lift your feet just a little off the ground, while stretching out your legs. Slowly pull the tips of your toes to your body and stretch them away from you. Try two sets of five stretches with each foot to relieve pain and build strength and flexibility in your toes, ankles and calves.2
First, rest your hands on the back of a chair for stability if you need to. Stand with your legs open as wide as your hips and lift both heels off the floor as far as is comfortable. The movement should be slow and controlled. Stay in this position for a moment before you move back to the starting position. Repeat five times. To increase difficulty, perform the exercise without support.3
Sit up straight in a chair with your feet flat on the floor. Place a small item like a tissue or pen on the floor. Grab it with your feet and lift it up. Hold this position for a few seconds and move back into the starting position. Now repeat the exercise with the other foot.4
Rolling a tennis ball under one foot not only massages feet but stretches out the bottom of the foot. While sitting on a chair, place a tennis ball under your foot and apply as much pressure as you can tolerate to push the ball into the floor. Then roll the ball back and forth between your toe and heel. Do this for 30 seconds and switch to the other foot.5
Stand on one foot and step back with the other foot, stretching your leg behind you. Now move the foot of the stretched out leg in circles. Repeat this exercise five times and switch to the other foot. If you are looking for a more advanced version of this exercise you can place a soft mat under the leg you are standing on. This will train your balance and feet muscles.6
Take a soothing foot bath as a simple way to relax your feet and body. Just pour warm water into a bowl and add an essential oil of your choice, such as lavender or rosemary, to relax and refresh feet.
Choosing the correct insoles for your favourite shoes
No two pairs of shoes are alike. Whether they're flat or high, open or closed, there's a comfortable solution for all your favourite styles.
Flat shoes
Narrow style flat shoes like ballerina pumps provide poor arch support which can cause a painful foot condition called plantar fasciitis.7 If you aren't ready to give up your ballet pumps or sliders just yet, Scholl GelActiv™ Insoles for Flat Shoes have been designed with extra cushioning to provide shock absorption where you need it in the heel and arches of the feet. Non-slip technology keeps the insole firmly in place to give you comfort wherever you go. 
High heels
New high heels look great but after a few hours they can start causing heel pain, pinching in the wrong places and hurting the balls of the feet. You can always carry a spare pair of flats for when the pain becomes unbearable, but you could try discreet insoles for heels that prevent the pain before it strikes.
Scholl GelActiv™ Insoles Everyday Heels are ideal for everyday smaller heels (up to 8 cm high). Soft gel cushions offer extra arch support and focus on the ball of the foot, to improve comfort and leave you feeling light-footed all day long.
Open shoes that are strappy or peep toe in design can often pinch feet in all the wrong places. Scholl GelActiv™ Custom Insoles For Open Shoes are extra slim in design to prevent toes from getting squashed but also transparent, giving you invisible support all day long.
If you dare to wear skyscraper heels (higher than 8cm), you'll love the firm positioning and comfort you get from Scholl GelActiv™ Party Feet Invisible Gel Heel Shields. Grippy material and little pimples on the insole's surface prevent feet from slipping, and the ultra-soft gel relieves pressure from the ball of the foot.
All of the products in the Scholl New Gel Activ™ insoles range have been designed to fit into every shoe without the need for cutting. Just remove the protective film and stick the insole into the foot bed.