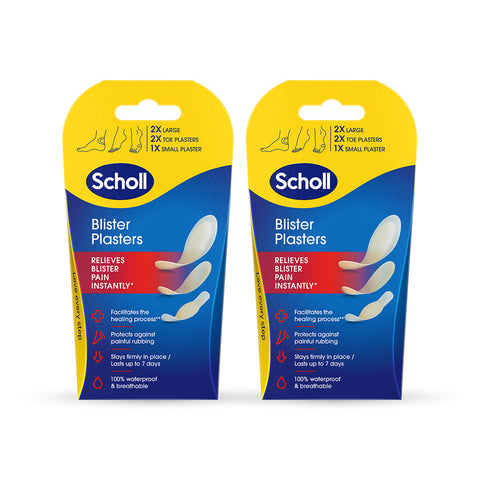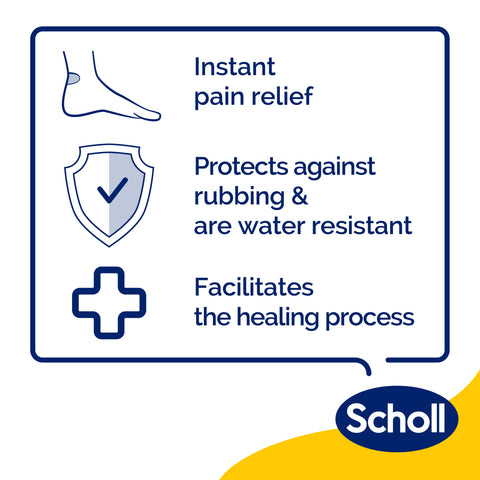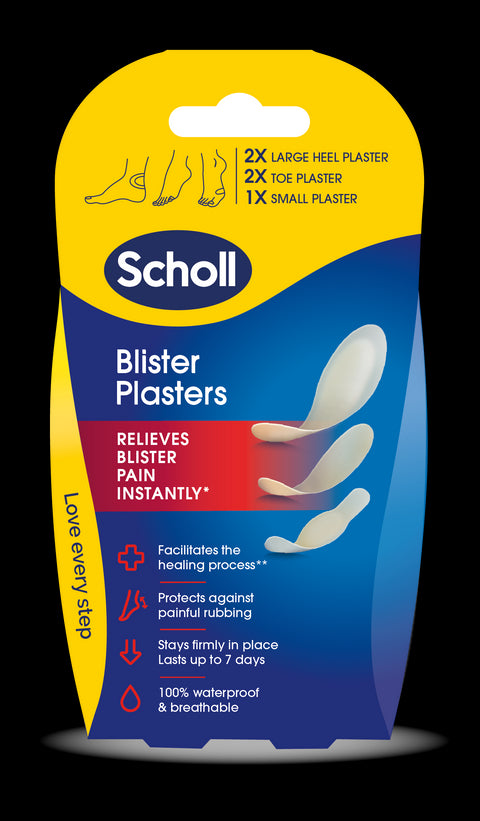 Blisters
2-Pack Mixed Blister Plasters Pack of 5
NEXT DAY DELIVERY
Order within for next day delivery
Order before 2pm for next day delivery
For protection of feet and blisters against painful rubbing.

Scholl blister plaster patches are easy to apply, comfortable to wear and can stay firmly in place for up to 7 days. This handy mixed pack is ideal for heel blisters or blisters at the bottom or side of your foot.
Pain relief - Each blister plaster is cushioned with a soft gel island pad so providing a great way to relieve pain instantly from rubbing shoes.

Promotes healing - Scholl blister patches accelerate healing by keeping the blister hydrated and flexible. 
Pads can also help to prevent a blister from forming so perform a regular foot check and identify any areas that would benefit from being covered up for pain relief.
Scholl patches are ideal for daily or sports use as the special gel pads protect the skin again pressure and rubbing.
Wash hands first, then clean and dry the area to be treated. Choose the correct sized patch from the pack and remove the plaster from the backing paper, taking care not to touch the adhesive surface. Place over the affected heel or other foot area and smooth down the edges until it holds firmly. The patch will seal the blister protecting it from dirt and bacteria and can remain in place for a few days until it naturally loosens.
To get the best pain relief from heel blisters, assure pads are placed centrally over the blister area. Patches vary in size, so use the one that easily covers the area of the foot that needs treatment.
WHAT ARE THE DELIVERY OPTIONS?
Standard Delivery: 3-5 working days
£3.99
Express Delivery: 1-2 working days
£5.99
All orders placed before 2pm Monday-Thursday will be shipped for next day. Orders placed before 2pm on Friday are not guaranteed to arrive Saturday but are guaranteed to arrive on Monday. Orders placed after 2pm on Friday will arrive Tuesday
All About Feet: Foot Care Tips, Advice & Latest News
You currently have no items in your cart.