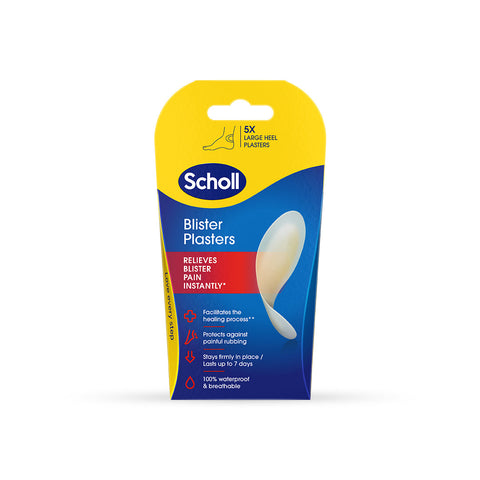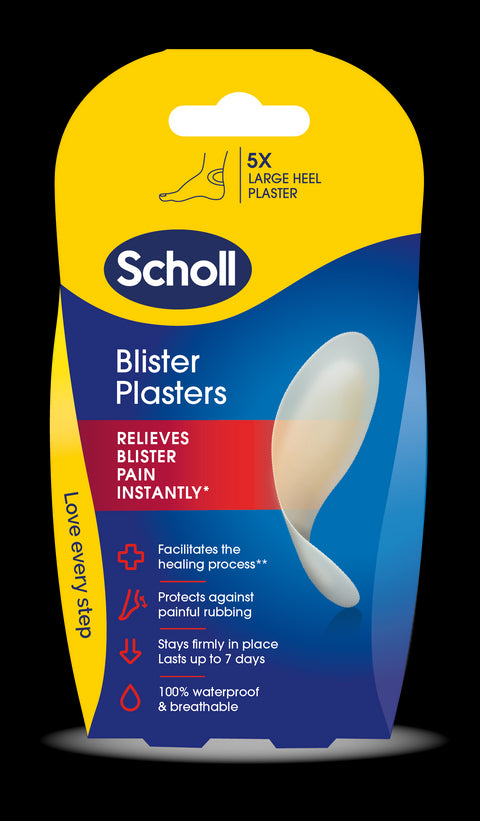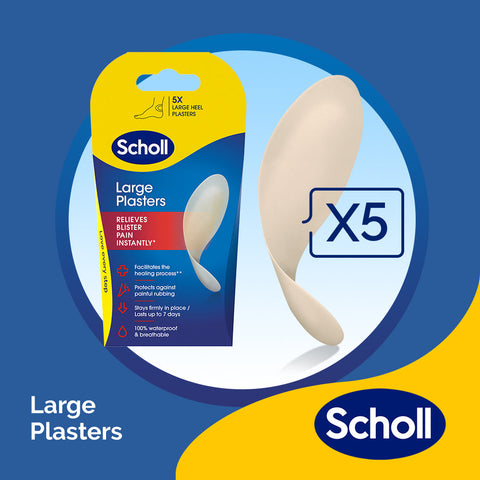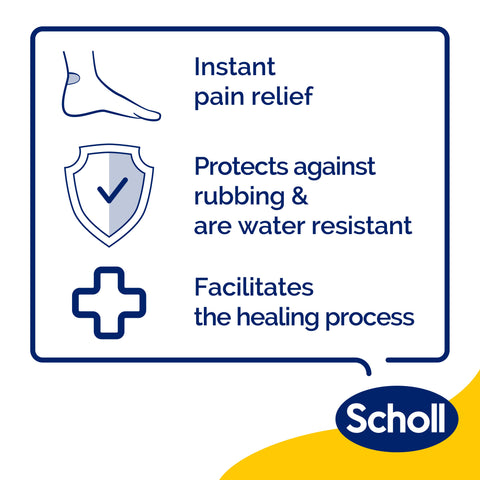 Large Blister Plasters Pack of 5
NEXT DAY DELIVERY
Order within for next day delivery
Order before 2pm for next day delivery
Large heel plasters to protect against blisters.

Ideal to prevent heel blisters or cover blisters that have already formed for comfort and healing.
PROTECTION - Scholl Large Blister Plasters seal the blistered area providing protection against bacteria and dirt. They also keep shoes that might be fitting badly from causing repetitive rubbing and pressure. In particular, the delicate layer of skin on top of the blister will be protected until it is ready to drain by itself.

PAIN RELIEF - 

Sores where shoes might be rubbing or blisters that have already formed from walking for a long time can be dressed with a Scholl Plaster to provide instant pain relief.

EASY TO APPLY - 

Simply wash the area to be treated and dry thoroughly. Peel the backing off the plaster without touching the underlying adhesive and centre over the blister. Smooth the plaster down gently so there are no creases and the blister is sealed in. The adhesive will keep the cushion gel in place.

WATERPROOF - Scholl Blister Plasters are 100% waterproof so you can continue to shower or swim. Each plaster is hydrocolloid and can stay firmly in place for up to 7 days or until the edges start to lift.

BREATHABLE - Plasters are designed to let the treated area breathe to promote the healing process.

HEALING - Blister plasters create a moist environment which helps the wound to heal faster compared with it being left uncovered.

HANDY PACK - 

Each pack contains 5 large heel plasters, light and convenient to carry around when you're on the move and perfect to keep in a first aid kit.


WHAT ARE THE DELIVERY OPTIONS?
Standard Delivery: 3-5 working days
£3.99
Express Delivery: 1-2 working days
£5.99
All orders placed before 2pm Monday-Thursday will be shipped for next day. Orders placed before 2pm on Friday are not guaranteed to arrive Saturday but are guaranteed to arrive on Monday. Orders placed after 2pm on Friday will arrive Tuesday
All About Feet: Foot Care Tips, Advice & Latest News
You currently have no items in your cart.