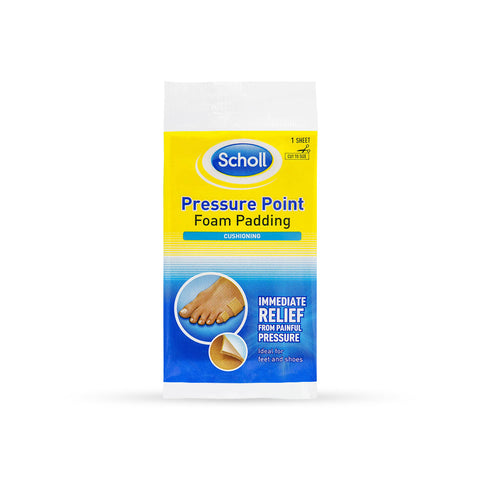 Corn
Pressure Point Foam Padding
NEXT DAY DELIVERY
Order within for next day delivery
Order before 2pm for next day delivery
Scholl Pressure Point Foam Padding is dynamically designed to relieve pressure and friction on certain parts of your skin that can be both painful and irritating. Under dermatological testing, these pressure point foam pads have been shown to protect your skin, relieve pressure and let your skin to heal in its own time. They can be applied for the protection of heels and toes so you can continue your active lifestyle without having to compensate for your footwear.
Feet should be clean and dry. Cut foam to required shape and remove foam from backing paper. Apply and press firmly to ensure complete fixing. For tightly-fitting shoes Scholl Extra Slim Moleskin is available. In case of broken skin, apply over first aid dressing.
WHAT ARE THE DELIVERY OPTIONS?
Standard Delivery: 3-5 working days
£3.99
Express Delivery: 1-2 working days
£5.99
All orders placed before 2pm Monday-Thursday will be shipped for next day. Orders placed before 2pm on Friday are not guaranteed to arrive Saturday but are guaranteed to arrive on Monday. Orders placed after 2pm on Friday will arrive Tuesday
All About Feet: Foot Care Tips, Advice & Latest News
You currently have no items in your cart.