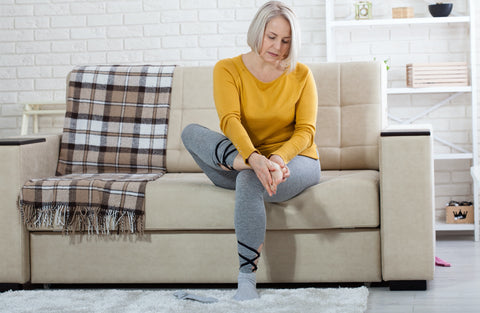 Treatment for Common Foot Problems
Your feet offer a lot of support to your body, so shouldn't you give them a little help in return? Here are a few ways to tackle common foot problems that can be uncomfortable, embarrassing, or just plain irritating.
Fungal infections
Athlete's foot and fungal nail are two of the most common foot infections. They're highly contagious and caused by warm environments that breed fungus and attack the skin on and around your feet. Athlete's foot symptoms can range from itchy rashes to peeling skin, while fungal nail discolours your toenails and can cause them to crumble. To minimise the risk of these infections, just give your feet a little bit of extra care.
Keep feet clean and dry
Keeping your feet clean and dry may seem obvious, but that doesn't make it any less important. Drying your feet properly after a shower is the first and most effective preventative step to avoid fungal infections.
Make sure the shoe fits
Fungi love humid warm places. Wearing dry socks and well-fitting shoes will help prevent fungus from thriving.
Treat early to prevent recurrence
If it's too late for prevention here's a few ways we can help with treatment. Scholl's Advanced Athlete's Foot Cream is a clinically proven treatment that kills fungi, soothes itching and provides relief of symptoms usually within a few days. Scholl Fungal Nail Treatment combats infection at the source due to its dual action of filing and treatment liquid to help prevent spread of infection and recurrence.

Ingrown toenails
An ingrown toenail can cause inflammation around the toenail, overgrown skin, bleeding or a build-up of fluid in the surrounding area of the toe. All of which can be quite painful.
As with most foot problems, prevention is better than cure. Cutting nails carefully in a straight line, using a good quality nail file or even treating your feet to a regular pedicure can help.
If you have an ingrown toenail already, the Scholl Ingrowing Toenail Kit is a simple two-step solution that includes a toenail clip to help stimulate straight-growth and a cooling spray to soothe away the inflammation and relieve the pain.
You could also try softening the surrounding skin with olive oil or warm water, a natural way to encourage the ingrown nail to grow out. Adding Epsom salts to a foot-soak also helps to soothe inflammation and reduce swelling.
Warts and verrucae
Warts and verrucae are caused by a virus and are more likely to spread in a wet or damaged environment. As warts and verrucae can be spread through touch, washing your hands, wearing clean socks as well as simply keeping your skin clean and dry are the best ways to avoid them. 
Scholl Wart & Verruca Complete Treatment Pen is easy and effective to use at home. It contains a 1 click applicator and coloured gel for precise targeted application and to prevent accidental application to healthy skin.
If you feel a bit wary about removing warts and verrucae at home or they are causing you too much pain or embarrassment, talk to your GP about removal.
Cracked skin
Dry feet can lead to painful cracks in the skin, which not only cause daily discomfort but can also leave your feet open to infections. There are plenty of ways you can keep your feet feeling soft by spending an extra few minutes looking after them.
Simple things like moisturising your feet well every day can make a big difference. Scholl Expert Care Triple Oil Footmask is designed to intensely hydrate and moisturize the unique skin on your feet. The foot mask is enriched with a triple oil blend and only takes 20 minutes to work! It leaves your feet feeling soft and silky for up to 24 hours.

Filing your heels regularly will also keep your skin silky smooth. Scholl Expert Care Hard Skin Cream is specifically designed to soften the outer layer of the skin so that it can be easily removed with a good foot file.

Support your feet with a regular foot care regime and follow our top tips on preventing common foot problems. It will help them to do their tough job better.
If symptoms persist, consult your doctor. Scholl Advance Athlete's Foot cream contains Terbinafine. Always read the label.
Scholl Wart and Verruca Pen is a Medical Device. Always read the Instructions.
RB-M-03303. Always read the instructions