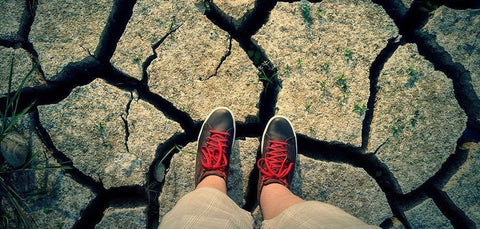 Causes of dry skin on feet and how to treat cracked heels
What are the causes of dry skin on feet?
The skin on our feet is unique. It's up to 30 times thicker1 and has fewer oil glands than the skin on the rest of our bodies2 – so it's not surprising that dry skin can affect us all at some point. In summer months especially, your feet are more exposed to the elements and the skin on the sole of your foot gets dehydrated, leaving it dry and rough.3 Not a good look when you're out and about in those strappy summer sandals. If you'd rather be showing off smooth, soft beautiful feet this summer, we're here to help.
How to manage dry skin
The good news is, just a little bit of care and attention can make a big difference to dry feet. Using a rich foot-friendly moisturiser like Scholl Expert Care Hard Skin Cream could transform your feet from dry and drab to soft and fab in just one application. How? Well, firstly it's innovative deep hydration formula exfoliates dead dry skin cells. This allows the moisturiser to then penetrate deep down to rehydrate the skin.
If you have a lot of hard skin build up then it's best to remove it before moisturising. Try Scholl's Velvet Smooth Electronic Foot File to buff away the hard layers of skin quickly and easily. Then apply a moisturiser that's specifically designed for the skin on your feet, like Scholl Expert Care Dry Skin Foot Cream. It contains allantoin and lactic acid to deliver targeted hydration where your feet need it most.
Severe cases of dry skin
Cracked heels are a little more difficult to treat than dry skin. However, using Scholl Cracked Heel Repair Cream If you don't treat your feet, dry skin can begin to crack. The fissures can split deeper into the skin layers, and can sometimes cause pain and burning, especially on the heel.3 Heel Repair Cream: Active Repair K+ could show a visible improvement in just three days. It deeply moisturises very dry skin, and because it contains keratin, it can help to rebuild and repair your damaged skin.
To stop dry feet from becoming an ongoing problem, all you need to do is remember to include your feet in your daily skin care routine. When you're moisturising the rest of your body, don't forget to use Scholl Expert Care Dry Skin Foot Cream on your feet. It's easily absorbed and suitable for daily use.