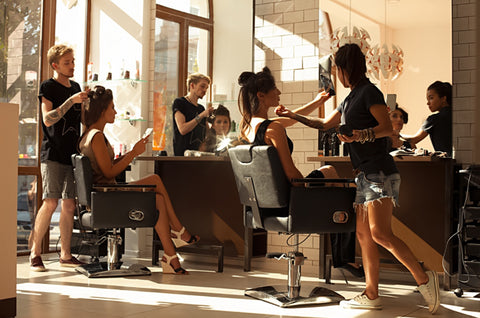 Get Rid of Hard Skin on Your Feet for good!
Getting tough on hard skin
Hard skin and cracked heels on feet is never a good look, but it's more serious than that - it can lead to skin peeling and cracking when you walk. If you're toughing it out with cracked heels and hard skin and still haven't found a solution, we have helpful tips for smoother, healthier feet.
What is the hard skin on my feet?
Hard skin can look different for different people, but it often appears as rough patches of skin that are yellow in colour.1,2 This skin is usually less sensitive to the touch than the surrounding skin and is quite thick.1,2 These areas of skin, referred to as calluses, are less defined than corns, which are often softer but have similar causes.4,5
The areas most likely to be affected by hard skin are heels and toes, especially the little ones. It's also common on the ball of the feet, where skin gets the most intense rubbing from your shoe as you walk.1,2
What causes hard skin on feet?
Hard skin is caused by a lack of moisture in the top layers of the skin.1 It is more likely to be found in people who place extra pressure on their feet: athletes, people who work on their feet for long periods, older people, those who use harsh soaps and detergents, people who spend a lot of time in dry environments with air conditioning or central heating and people that wear poorly fitted shoes – for instance shoes that are either too small, too loose or if there's a constant friction between the shoe and skin).4
Hard skin develops when the skin rubs against something, like a tight shoe.1,2 This leads to calluses forming on the bony parts of your foot that take most of the weight as you walk. Walking barefoot, standing for long hours or repeated heavy pressure such as running can speed up the formation of calluses, which explains why athletes often get hard skin on their feet.3
Spending long hours on your feet can cause hard skin to develop, difficult to avoid if it's in your job description like a hairdresser or security guard. Using harsh soaps and detergents on your feet or spending a lot of time in dry environments with air conditioning or central heating can cause hard skin. It's also a condition we're more likely to face as we get older.1-3
Don't forget to moisturise with a dedicated cream, like one from the Scholl range of moisturisers.
Top tips for preventing hard skin3
Always dry your feet properly after showering and bathing, then use a dedicated moisturiser for feet like those in the Scholl range.
Wear comfortable shoes that fit properly, avoiding those that are either too loose, too tight or cause a constant friction between the shoe and skin.
Respond to foot pain as soon as possible, as this can suggest problems to come. Find a daily foot care routine that works for you. With minimal time and effort each day, your feet can look smoother and healthier.
If you're prone to hard skin or work for long periods of time on your feet, you may need the extra support of gel insoles like those in the Scholl Gel Insoles range.
Why is it important to remove hard skin from your feet?
If left untreated, calluses and the build-up of hard skin can cause skin to lose the ability to stretch, reducing its sensitivity over time and becoming dry, swollen or even cracked. This is often painful and as you can imagine, and may lead to more serious skin problems. 1-3 Scholl has effective moisturisers for cracked heels.
How to remove hard skin on feet?
Removing hard skin is easy with one of Scholl's range of Express Pedi products. These can be easily tailored to your individual needs, whether you have very hard skin or are taking the time to prevent future build-up of hard skin areas on your feet. The Express Pedi can be customised to fit your specific needs with different roller heads, making sure your feet are the smoothest they can be.