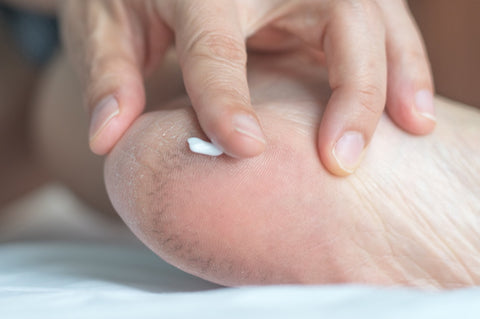 What Causes Cracked Heels & How Can I Prevent Them?
Your skin is like a human shield, protecting you from dirt and infections. But it can't protect you properly if it's injured. Cracked heels develop when the skin around your heels splits apart.1 A mixture of dryness and pressure lead to cracked heels, as the skin becomes unable to keep moisture levels up and ultimately becomes fragile, leading to breaks.1
Cracked skin results from tiny splits that occur in dry, damaged skin. If left untreated, these tears can grow into deeper cracks, also known as fissures.1 Heels carry the weight of your body whenever you're upright, so when they lack moisture and dry skin builds up, cracked heels can develop.1
Scholl has a full range of products to help you deal with cracked heels, but let's start with a more in depth look at the symptoms and causes.
What causes cracked heels?
Cracked heels can happen for a number of reasons, from wearing footwear that leave your feet exposed, to just a lack of moisture. If you've noticed symptoms - such as dry skin thickening around your heels, cracked skin or heel pain - then knowing the causes can help you understand the condition and could help prevent it in future.2
Dehydrated skin is one of the biggest causes of cracked skin. Once moisture is lost, the heel starts to produce thick areas of rough skin as a form of protection. As a result, the skin is prevented from healing sufficiently. At the beginning, cracked skin may only feel like a visual issue, but over time it can cause pain when you walk if left untreated. In more advanced stages cracked heels can feel itchy, painful and also begin to bleed from pressure.2
Calluses are another major culprit of rough skin - patches of yellowish thick, dry skin that grow over injured areas of the skin in order to protect it. If left untreated, calluses often split under pressure. Other reasons include dry indoor heating, exposure to cold weather and problems with pronation of the foot.2
The most common causes of cracked heels2,3
Lack of moisture
This is the most common cause of cracked heels. The skin around your heels has a relatively small number of sweat glands and a lack of elasticity, so it can often become dry, rough and chapped.
Deficiencies
Lack of vitamins and minerals such as iron and zinc in your diet can adversely affect your heel health.
Pressure
Spending a long time standing at work or home can stress the skin on your heels.
Aging skin
Thick, dry, scaly skin loses its elasticity with age, and as such cracks can be more likely as you get older.
Other health disorders
Athlete's foot, psoriasis, eczema, thyroid disease, diabetes and some other skin conditions can cause cracked heels.
Obesity
Being overweight can increase the pressure on the fat pad under the heel. This can cause it to expand sideways and, if the skin lacks flexibility, put pressure on the feet. This leads to cracked heels.
Open footwear
Open-back sandals or shoes can allow fat under the heel to expand sideways and increase the possibility of cracks on your heels. Taking care of your feet regularly is important when wearing footwear that exposes your heels, especially in summer.
Open-back shoes are another major culprit when it comes to Calluses, as they don't provide any support for the pad of the foot. Barefoot walking and uncomfortable shoes also worsen the problem.
Hygiene
Failing to keep your feet clean can be a further cause of cracked heels, though the use of harsh soaps and vigorous scrubbing can contribute to the problem.
Water
Water on your feet can take away natural oils from the skin and can leave the skin rough, dry or both. Standing for prolonged periods in damp areas, such as a bathroom, can cause dry and cracked heels.
Badly fitting shoes
Wearing shoes that do not fit properly can contribute to cracked heels and heel pain.
Genetics
You can be genetically predisposed to dry or thick skin and calluses around the heel, leading to cracked heels.
The symptoms
In the initial stage of the condition, the heel starts to feel tight when placed under any kind of strain. Intense dryness, itching and tenderness of the skin are often the first signs of the problem. The affected area can turn yellow or brown in colour and tends to harden significantly.1
In its more advanced stage, the heel may become so dry that it turns white, yellowish or red in colour and begins to flake. Cracks can deepen to the extent that the simple act of walking becomes incredibly difficult. If left untreated, cracked heels may start to bleed and become infected with bacteria.1
Preventing and treating cracked heels
To help keep skin supple and your feet fully protected, moisturisers and cleansers are clinically proven to support the natural recovery process of dry skin. If you find that your symptoms persist even after treatment, speak to your doctor or dermatologist to find out if there might be any other potential causes or underlying health problems.3
Another tip might be to change your diet to one which includes foods rich in calcium, iron and zinc. In many cases, this can help boost skin health, although it's best to check with your doctor first before making diet alterations.
An effective way to prevent the formation of cracked skin is through the use of a moisturiser. Scholl Hard Skin Softening Cream can help improve skin-repair, giving visible results in three days. Scholl Cracked Heel Repair Cream Active Repair K+ can help hydrate and soften cracked heels over time by improving the skin's elasticity. Apply the cream twice a day to clean, towel dried skin by massaging it into feet until it's completely absorbed.
Another essential tool in the fight against dry skin is a foot file; which can eradicate dead skin by removing it layer-by-layer until smoother, softer skin is revealed.3
When it comes to cracked skin, taking care of your feet regularly is always better than cure. It's important that you give your feet the same care and attention that you'd give the rest of your body. If you're always pressed for time, soften hard skin quickly by soaking your feet in warm water. Remember to wear shoes that protect and support the pad of the foot and avoid shoes that are too loose or tight.2,3
And, of course, Scholl foot creams and foot masks will help keep your feet soft and moisturised.