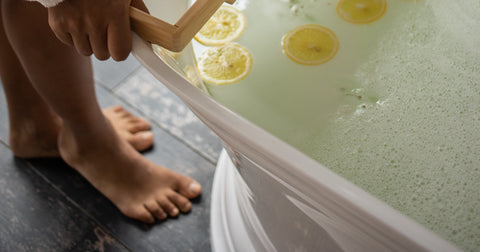 How to pamper your feet with a home spa
One of the easiest, and most relaxing things you can try is a 'Spa Day' at home. It doesn't have to be a whole day, it can even be just an hour, but giving yourself a break from your daily schedule is like a stay-at-home holiday.
Now, before you start, just try and make sure you don't get any unexpected interruptions from cats, dogs, phones and family! Not easy, but possible with a little planning.
Step 1 - Engage your senses
Set the mood with a diffuser, candle or scented oil in warm water to create a luxurious spa ambience. Try eucalyptus for a classic spa scent.
Now look for a relaxing playlist on Spotify, or your other favourite streaming site and get ready to unwind.
Step 2 - Add the little extras
Find your fluffiest towels and your best bath robe to keep you comfy. Why not try a rejuvenating spa-style drink to keep you hydrated? Line a jug of ice water with discs of lemon, orange and cucumber; it gets tastier the longer you leave it!
Step 3 - Treat yourself
Try a little facial massage and foot exfoliation before you bathe. Use a chilled jade roller to massage your face, neck and around your eyes, using the smaller roller at the other end.
Then, exfoliate any dry skin on your feet with Scholl's Expert Care File & Smooth Foot File to keep your skin soft and smooth.
Step 4 - Soak it up
After treating yourself to a pamper session there's nothing more relaxing than a long spell in a hot tub. Make the experience more special with a homemade bath bomb using your favourite essential oils and flower petals.
Step 5 - Finish with your feet
After a good soak the best way to finish the hydration process is with one of our Expert Care Foot Masks.
Wait 20 minutes, then remove the masks and massage in any remaining cream. Check out our Skin Care range for everything you need for the ultimate pamper.
Have a look through the rest of our Expert Care range to see all the different ways you can treat your feet! Now enjoy beautifully smooth, silky soft feet, for the perfect ending to your Spa Day!