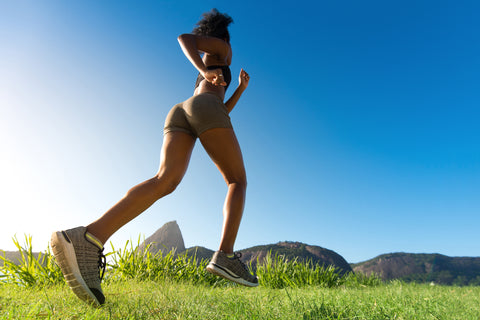 How to keep that resolution going
One of the easiest ways to keep your motivation up is to look after your feet. There's nothing more likely to stop any run in its tracks, than problems with your feet. It goes without saying that you need a proper pair of running shoes that fit well, but there are some other quick fixes that will make any run more enjoyable.
A little expert help
With over 100 years of foot care experience, there are a few things we can help with. 
Scholl GelActiv™ Sport Insoles will give you better foot support and reduce the shocks your joints may feel when running on hard surfaces – so you can work out for longer. Our sports insoles are athlete tested and can be used in all kinds of athletic footwear.
And to make your feet even more comfortable, Scholl Blister Plasters are specifically designed to prevent or protect blisters. Cushioned with a soft gel island pad to provide instant pain relief, each plaster accelerates healing by keeping the blister hydrated and flexible. They are easy to apply, comfortable to wear and stay firmly in place for up to 7 days.
Looking after your feet in between runs is just as important too. Regular foot care keeps your feet smooth, healthy and soft, which means they're always in the best shape possible for your next run. Scholl Expert Care Dry Skin Foot Cream is specially designed to help the tougher skin found on your feet. With moisturising ingredients, it's clinically proven to instantly hydrate your skin.
There are also some really simple things you can do to keep your feet in tip-top shape.
Running and your feet: 5 Top Tips
A good pair of running socks will help prevent blisters and keep your feet dry

Stretch your feet before and after running to reduce the risk of injury and improve circulation and recovery

Take breaks. Especially when you're just starting out, you need to give your feet enough time to recover in between runs

Regularly massaging your feet improves circulation and reduces the risk of injury

If you do have any pain or swelling, apply an ice pack - or a bag of frozen peas - to reduce the inflammation. If the pain continues or worsens, please seek medical advice
So keep your resolution going and make foot care part of your fitness routine. You never know, you might even see your times getting faster. 
Our Running Bundles are the perfect way to protect your feet when taking on a challenge.OR go the extra mile and get the Ultimate Running Bundle and keep those feet soft and smooth with Scholl's Dry Skin Moisturiser after a hard workout.
Products:
Expert Care Dry Skin Foot Cream