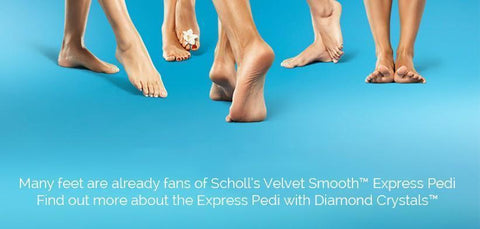 What do people think of Scholl's Electric Foot File?
Smoother feet in two minutes with scholl's electronic foot file
Two fans of scholl's velvet smooth™ express pedi tell us their foot care stories - and it won't take
"Yoga is an important part of my life – it's when I can really relax. And I like to pass on this feeling to my students in class. My feet are often the focus of attention, so it's important to me that they look healthy and well cared for. I used to go to a beautician, but now I've found an easy way to look after my feet at home with Scholl."
Kim, 36, Yoga trainer
Sneak a peek at melanie's express pedi
"I'm always rushing around in the restaurant – so in the evenings I sometimes like to let off steam and go dancing. I only pamper my feet when I absolutely have to. But it's really easy with the pedicure range from Scholl – I get beautiful feet in just two minutes."
Melanie, 31, Waitress
Find out more about the Scholl Velvet Smooth Electronic Foot File and discover your perfect pedicure routine.