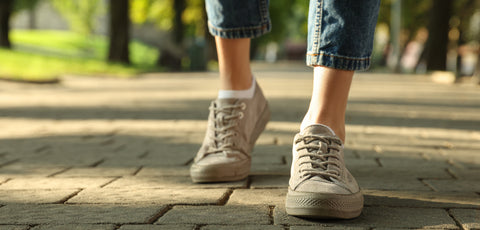 Walking Benefits: Mental Health and Fitness
Walking helps you sleep better, live longer and boosts your brain
Can you walk your way to a healthier brain? Yes, you can. Walking is proven to help improve your sleep and gives you a brain boost. What's good for your sole is good for your mental health and wellbeing too. At Scholl, we're here to help you feel comfortable and supported whilst you walk. Here are 3 ways walking can help to improve your brain - from your Hippocampus to Gökotta. 
Walking helps you live longer
Every step really counts according to one study¹ presented to the American Heart Association. They found that walking may increase your lifespan - 6 years of research proved that if you walk 2,000 steps every day, you make a 32% difference to your life expectancy.
The time of day, how fast you walk and how far you walk all has an impact on your body. Your body benefits from good hormones, stronger muscles and a better functioning brain from walking. And this all contributes to living a longer and healthier life.
Walking gives your brain a boost
The Hippocampus is the part of the brain that controls learning and memory. As you get older, this gets smaller which leads to impaired memory and increased risk for dementia. 
Research has proven that you can actually increase this part of your brain with a simple stroll every day. Scientists have even found that 1 year of moderate-intensity exercise, like a brisk walk, can reverse your hippocampus shrinking². So walking can actually grow your brain and help with memory as you get older.
Walking improves your sleep
Did you know that a good night's sleep is important to improve your learning, health, memory, decision-making, and even creativity? However, around 20% of adults experience bouts of insomnia. Walking has been proven to also help us fall asleep. So if you're struggling to snooze, try fixing it with your feet. 
Melatonin is our sleep hormone that's released from our brain at night. It's produced from the happy hormone - serotonin. And a walk in the morning sunshine is proven to increase our serotonin at dawn and our melatonin in the evening. 
The good people of Sweden love a morning walk for these exact benefits. So much so, they've even got a name for it - Gökotta³. Their morning routine involves getting up and outside first thing in the morning to hear the birds singing. Lovely.
Walking with comfort
Walking clearly is a key component in making our lives longer, our brains healthier and our sleep satisfying. So make the most of your walks by keeping your feet in their best condition. Scholl's top tips to support your walks are:
Keep them clean
Don't forget to scrub them in the tub with warm soapy water.

Changing your socks frequently
Let your feet breathe as much as you can. But when you're wearing socks, make sure they're a fresh pair.

Wearing shoes that fit you properly
There should be just enough space to fit your finger behind your heel whilst you're wearing your shoes.

Check out Scholl's footcare range
Get your hands on any of your walking essentials - from insoles to blister plasters.
References
¹ Healthline - Walking an extra 1,000 steps may increase your lifespan https://www.healthline.com/health-news/walking-an-extra-1000-steps-may-increase-your-life-span#How-to-squeeze-more-steps-into-your-day 
² PNAS - Exercise training increases size of Hippocampus and improves your memory https://www.pnas.org/doi/full/10.1073/pnas.1015950108#sec-2 
³ Metro - The Swedish habit of Gokotta could finally make you a morning person https://metro.co.uk/2023/05/23/the-swedish-habit-of-gokotta-could-finally-make-you-a-morning-person-18822776/
Products: