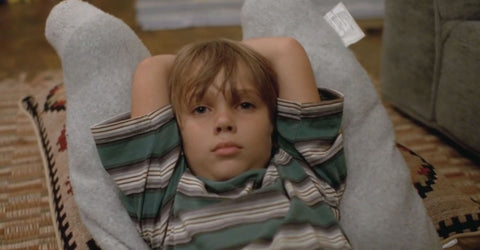 Movies and Books You Need to Catch Up With Before Lockdown is Over
Entertaining, engrossing, emotional even, but nothing too challenging!
Changing your routine like this is a great way of resetting daily life, particularly when it's hard to remember what day it actually is.
We've scanned the Movie and Books lists so you don't have to, oh and we added a few of our personal favourites in here.
Get tucked in to the Scholl Team's recommendations below - Holly, Amna, Dan and Mathieu are bringing you their all time favourites! 
All are available to watch online: streaming, rent or buy, but a great place to find where films old and new are hiding is Justwatch.com. It'll even give you the best available current price.
So, put your feet up – maybe after a little pampering? Have a browse through these amazing foot masks from our Expert Care range  and see what tickles your fancy! They're perfect for hydrating your skin in just 20 minutes while enjoying some movies and stories that will make you feel you're in another time and place.
Movie Recommendations 
MAD MAX: FURY ROAD – Dan's recommendation. (Amazon)
We don't need to say too much about this one. It's fast-paced. Full of action. And the whole movie takes place outside.
OKJA – Amna's recommendation. (Netflix)
A young girl named Mija risks everything to prevent a powerful, multi-national megacorporation from kidnapping her best friend- a massive beast called Okja. Starring Tilda Swinton, Jake Gyllenhaal, and the amazing animated animal in the title, this really isn't the simple children's film it first appears to be.
PRIDE AND PREJUDICE (1995) – Holly's recommendation. (Netflix)
We know this isn't a movie, but we couldn't resist adding this classic to the list. This six episode adaptation of Jane Austin's Pride and Prejudice is my all-time favourite . It's quite a long watch so, again, it's great for isolation given we don't have much else to do. I used to watch it all back-to-back as a child and fell madly in love with Colin Firth as Mr Darcy and things haven't changed one bit. It's much better than the more recent, Keira Knightly version, so if you like period dramas and haven't watched it, then it's an absolute must watch.
THE TUNNEL – Mathieu's recommendation. (Now TV Entertainment)
"Being French, I have a soft spot for this TV drama-investigation adapted from Swedish-Danish series The Bridge." We follow an English and a French detective that have to work together to solve the mystery of the a body found in the Channel Tunnel, right at the midpoint between the UK and France. The investigation will lead them to track the Truth Terrorist whose crimes are a pretext to reveal social issue across the two countries. 10 episodes that will want to binge-watch!
BOYHOOD. (Netflix)
Winning Best Actress for Patricia Arquette at the Oscars, this coming-of-age epic tells the story of a divorced couple in Texas, trying to raise their young son from the age of 6 to 18, and their changing relationships as he grows up. It was famously filmed over 12 years, time-lapse style, to make the boy's story as realistic as possible. One of my favourite films ever made about childhood.
COLD WAR. (Amazon)
The tale of a man and a woman, meeting in the ruins of post-war Poland, and falling in love. With vastly different backgrounds and temperaments, they are drawn to each other yet tragically mismatched.
Book Recommendations 
All are available via the usual online stores for delivery in hardback or paperback (try price comparison site Book Depository as an alternative) but also as e-book editions and audio books.
HIS DARK MATERIALS trilogy by Phillip Pullman - Mathieu's recommendation
The first series is my childhood alongside Harry Potter. I rediscovered the trilogy through the BBC series back in November last year (8 episodes to cover the very first book – must watch too) and read it again recently. And as a bonus a new trilogy "The book of dust" started being published few years ago with one last chapter yet to come.
In "Northern Lights", follow 11-year old Lyra in an alternate world where human essence is represented by Daemons, animals that follow them for their whole life. Lyra will start an expedition to save her friend Roger and other children from "Gobblers" child-abductors, trying to cut them from their Daemons. The journey will guide her to the Arctic, and she will encounter rather unique characters like Iorek Byrnison, an armoured bear or aeronaut Lee Scoresby.
A SONG OF ICE AND FIRE series by George R.R. Martin – Dan's recommendation
You've clearly watched the TV show. Now read the books - they're amazing and at a current combined total of 1,770,000 words you'll be able to fly through your lockdown.
THE HUNTING PARTY by Lucy Foley – Holly's recommendation
"I love a murder mystery and I found this such a gripping, easy read." A group of friends go to a remote hunting lodge in Scotland for New Years and, you guessed it, they all become suspects when one is murdered. The secrets of their friendships unfold as the book goes on, although admittedly, some of the characters are a little stereotypical. However, it's wonderful escapism and the sort of book I didn't want to put down - a perfect isolation book!
OLIVE KITTERIDGE by Elizabeth Strout
13 interconnected short stories take you to the hardscrabble coastal community of Crosby, Maine. The link is the life of Olive Kitteridge, a maths teacher whose blunt manner makes people feel terrible, but who grows in understanding and empathy through the book, as does our liking of her.
THE SALT PATH by Raynor Winn
The path featured in this non-fiction bestseller is the 630-mile South West Coast Path from Somerset to Dorset via Devon and Cornwall that Winn and her husband travel after losing their business and home. Along the route, with no money for food or shelter, they find comfort in nature, and discover ways to deal with disaster, creating a sense of hope and resilience that we can all use.