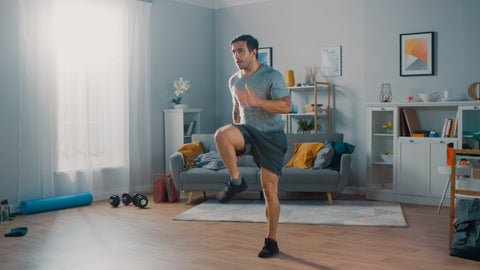 5 DAY @ HOME CARDIO CHALLENGE
How do you commit to a 5-Day fitness challenge from home? Here are a few useful tips: 
Remind yourself: Set a timer on your phone and commit to stopping what you're doing and going to get your challenge done.
Phone a friend: Doing these challenges with someone else by video, a call on speakerphone or even just via text, is really helpful in meeting your targets.
Share the goal: If you tell people on social media what you're setting out to achieve, it sometimes gives you a little motivation to achieve it.
Write it down: Record your time, number of reps, etc in a note or a calendar so you can see your improvements every day.
Stay hydrated: Drink plenty of fluids before, during and after any physical activity!
Happy feet: Make sure you've got the right equipment for any challenge, like gel insoles and orthotics.
For our 5-day challenge, we're giving you a link to cardio exercises and a schedule.
A picture (or a video) is worth a thousand words when it comes to exercising, so we won't tell you how to do each exercise, we'll show you, but here's a quick list of the beginners moves to get your heart pumping:
High Knees
Butt Kicks
Lateral Shuffles
Crab Walk
Standing Oblique Crunch
Speed Skaters
Jumping Jacks
Toe Taps
How it works:
Pick six out of the eight beginner cardio exercises. Your choice!
Separate them in to two groups of three. You can call them A or B, Blue or Red, whatever you want.
Follow our challenge program as follows:
Day 1: Do five minutes each of the three cardio exercises you've chosen for A. Fifteen minutes in total. Not bad to start with.
Day 2: Do another five minutes each of the three exercises you picked for Team B.
Different exercises working different muscles and getting your heart rate up (without you getting bored).
Day 3: Do Team A again, and add one of Team B, so four exercises, making twenty minutes cardio in total.
Day 4: Yes, you've guessed. Do Team B with one of Team A. Another twenty minutes cardio. You're smashing it!
Day 5: Ready for the ultimate test? Do A and B together, making thirty minutes total cardio. That's a pretty tough workout.
Congratulations! You've completed your five-day challenge. Now relax, it's the weekend.
You can change it for another week by adding some of the intermediate exercises, before you progress to the advanced level. The good news is, if this doesn't feel right, there are plenty of other free workout challenges out there which you can easily adapt to meet your needs, like we've just done.
Here's an example: Check out this 30-day fitness programme from Buzzfeed, which splits the exercises into red and blue days, with rest days in between.
Just do your own 5-day trial version and see how it feels!