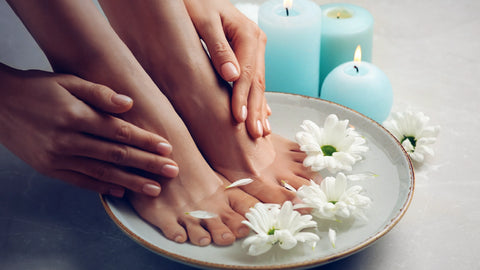 3 functions of your feet: How to keep them kicking
Your feet are the foundation of your body. But how much do you really know them? For example, did you know your feet have 7,000 nerve endings? Bet you didn't. With 125,000 sweat glands and 26 individual bones - your feet are perfectly engineered to support you.
Your feet help your spatial awareness
Your feet are a well-engineered mix of bone, ligaments, tendons and muscle that actually have the ability to sense movement, action, and location around you. This is called Proprioception. This 6th sense helps you to avoid tripping up on a curb or sliding across the kitchen floor in your socks and jim-jams.
Not only are your feet aware of your surroundings but they can tell us what's going on inside our bodies as well. Essentially, your feet mirror your general health. Conditions such as diabetes, diabetes, nerve and circulatory disorders often show their initial symptoms in the feet. Although the majority of foot issues are attributed to footwear–abnormalities or pain in the feet can be your first sign of more serious medical problems. So if they're hurting it could be a signal for another underlying condition elsewhere in your body. You may want to seek advice from your local health care professional.
Your toes give you grip and strength
The foot is the most complex skeletal structure in the human body. This is mainly due to the tiny muscles, bones, ligaments and tendons that make up our toes. The main purpose of your toes is to grip the surfaces we walk on, help prop us up and give us good posture. They also help with balance. And they support our body weight as we push ourselves forward step after step after step. Without our dainty little toes, it would be pretty difficult to saunter along the beach, strut down the street or take our Sunday morning stroll.
So be kind to your toes. You should look out for common conditions on your toes, like in-grown toenails which are often caused by tight shoes. And keep an eye out for athlete's foot, which is a fungus that often grows in between your toes caused by wet, warm feet.
Your soles are shock absorbing
Your feet carry you throughout the day supporting your legs, hips, abdomen, chest and head. All this pressure is put on the bottom of your feet - the soles. Luckily, your soles are especially developed to withstand all that pressure. The skin on your soles is 20 times thicker than the skin on the rest of your body.
If the soles of your feet hurt it could be overuse, ill-fitting shoes, or it could be plantar fasciitis. For those who don't know, plantar fasciitis is a painful inflammation or tear at the heel bone which affects the ligament on the sole of your foot. Your soles are usually so good at absorbing shock but the tear makes every step quite painful, especially when you first get out of bed. In the first few days of suffering from plantar fasciitis, try to rest and ice your foot for up to 20 minutes every 2 to 3 hours or alternatively try a pair of Scholl's New Plantar Fasciitis Insoles designed to relieve pressure and help alleviate pain.
Treat them right
These wonderful structures called feet do so much more than just keep us upright. As the foundation of our body, they support us in so many ways. It's only right that we take care of them back so they can continue to feel healthy and happy for years to come. If they're hurting, don't waste time - go get them checked out by a podiatrist. They're experts in footcare and can help address any problems you may be having.
Related Blogs
Related Products