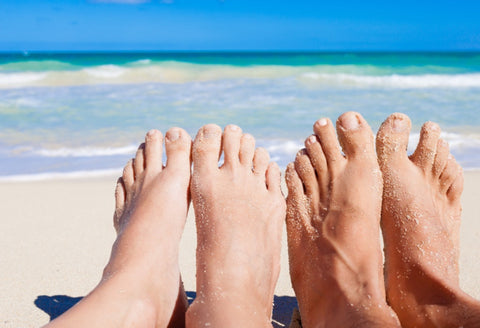 Preparing Your Feet for Holiday
Getting your feet holiday ready with scholl
We all look forward to summer, but it can still sneak up on us quicker than expected. That's when you realise you've neglected your feet for another winter and they just aren't ready for their strappy sandal day out. If it's time to give your feet a good spring clean, follow these simple steps.
Step 1: wash and dry your feet thoroughly
It may seem obvious but it's important to make sure your feet are washed and clean before you go lathering them in creams and potions. Always remember to thoroughly dry them too.
Step 2: keep in trim
Trimmed nails are a summer must-have. They not only look better, but there's also less chance of them causing you pain and discomfort.1 When you cut your nails, be sure to use a specialised product like Scholl Healthy Nail Toenail Scissors. Cut nails straight across, not down at the corners to avoid painful ingrowing toenails. Then gently neaten up the corners and edges of your nails with a nail file, to prevent any cracking of the edges.1
Step 3: shed the hard skin
Hard skin could be an unsightly and even painful side-effect of a winter of foot neglect. And that's definitely not a good look in summer. So hot foot it to your nearest pharmacist or store for the Scholl Velvet Electronic Foot File. It uses a roller head covered in finely ground diamond crystals to buff away hard skin effortlessly, leaving you with soft beautiful summer-ready feet.
Step 4: treat your feet to a bath
When they've worked hard for you all winter, treat your feet with a lovely warm soak.1 Ten to fifteen minutes will relax and soften your feet and help the pores to open, preparing your skin for a layer of moisturiser afterwards.
Step 5: trim your cuticles
Ragged cuticles can undo all the other hard work you put into keeping your nails looking great. So after giving your feet a soak, gently push your cuticles back, using a rounded cuticle pusher. Never cut your cuticles. They are living skin and a protective barrier against infection causing fungi and bacteria.2
Step 6: continuous care
Your skin is prone to dryness in the summer especially if you're out and about in flip flops and open sandals.3 That's why it's important to moisturise regularly with a specialised foot cream like Scholl Expert Care Dry Skin Cream. Foot creams contain even richer ingredients than normal body lotions and daily use can help keep your feet soft, supple and beautiful.
For longer-lasting smoothness try Expert Care Dry Skin Foot Mask to provide the intense feeling of hydration.
Step 7: keep toes safe in the sun
When it comes to applying sun tan lotion, feet can often be an afterthought. This could lead to UV damage and sunburn, so don't forget to protect your feet with a little sun cream next time you hit the sun lounger.4 There's nothing like a head-to-toe glow for summer party season.