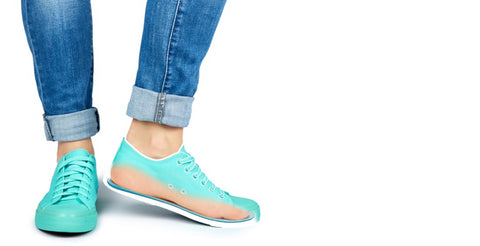 Scholl GelActiv Insoles: Everything You Need To Know
Everything you need to know about insoles
Did you know a human being walks five times around the earth during their lifetime, on average?1 That's an enormous strain on our feet, and why so many of us suffer from tired or painful feet – especially if we're more active.
Wearing insoles not only offers feet the everyday support they need but can also help with ailments affecting your feet or posture. Without them, a lack of sufficient cushioning and support can lead to sore and uncomfortable feet. In this article we share a range of insole options, so you can choose the best insoles for your lifestyle to make painful feet a thing of the past.
Designed to fit every shoe
The GelActiv™ Insole range has been developed to provide specific relief for different requirements and types of strain on the foot, so that the variants GelActiv™ Everyday, GelActiv™ Sport with their cushioning and shock absorbing effect, alleviating strain on the joints, and GelActiv™ Work works with its pressure reduction for feet exposed to heavy stress and strain.
There are three different insoles in the range to suit different lifestyles:
Everyday
Scholl GelActiv™ Everyday Insoles help keep your feet comfortable in the shoes you wear all day in your busy and active life. They're thin and discreet, designed to add an extra layer of comfort and cushioning to flat, casual or work shoes.
Best for:
Day-to-day shoes
Boots and ankle boots
Trainers and sports shoes
Sports