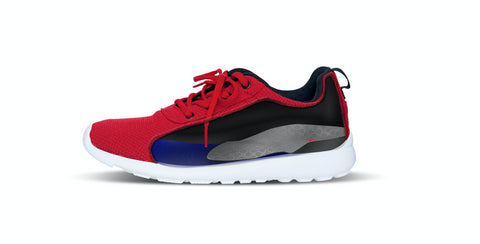 Reduce foot and lower body pain with Scholl's In-Balance Pain Relief orthotic insoles
If you're on your feet all day long and experience knee or joint pain, it could be time to look into added support for your feet – like Scholl Orthotic Insoles.
Discover what causes your foot and lower body pain
Learn which Orthotic insoles are right for your needs
What are orthotics?
If you suffer from aching in your feet or lower body, orthotics might be what you need. Orthotics is the name for any artificial aid designed to prevent or assist movement of weak or injured joints or muscles. You'll find a full range of Scholl In-Balance Pain Relief insoles.
Red/orange – areas of high pressure

Yellow/green – areas of little pressure

Light/Dark Blue - areas of relief and comfort
What causes foot pain and lower body pain?
Everyday activities, even standing and walking, exert surprisingly large amounts of pressure on your feet. Pain can occur when you walk simply because a little extra stress or pressure is put on the tissues, bones or joints.
One common cause is an increase in the amount of pronation. This is basically when your foot rolls inwards if weight is placed on it. Some pronation, usually around 15%, is normal. This can lead to an increased lowering of the arch as the foot flattens further, an increased rotation of the leg as the foot rolls further over and inwards, along with a tilting of the heel. All these movements are linked to problems such as heel and knee joint pain.
Scholl in-balance pain relief insoles to the rescue
Scholl In-Balance Pain Relief Insoles are designed to target the feet – a common source of everyday lower body pains.
The range has been developed by biomechanical experts, and all of our Pain Relief insoles have a Motion Control Structure. Each insole has the right shape and combination of materials to help extra support to specific areas of the foot.
These insoles are designed to work in three ways – shock absorption, pressure redistribution and stabilisation. Together, they can help your feet a stable base for your everyday activities.
Shock absorbing
Immediately helping to absorb stress-inducing shock through your lower body
Pressure redistribution
Contouring to support your feet, spreading weight more evenly and reducing pressure
Stabilisation
Helping to stabilise the position of the foot to support your natural walking style
Insoles as individual as you are
Feet come in all shapes and sizes and so do our insoles. Whether your feet are causing you lower back pain, heel or knee pain, there's a Scholl Orthotic Insole to suit you.
New Scholl In-Balance Lower Back insoles are full-length to support the position of the whole foot, distributing your body weight more evenly.
The specially designed heel cup offers great shock absorption to help reduce the amount of stress being passed up your body to your lower back.3
New Scholl In-Balance Everyday Knee to Heel Insoles help reduce pain in knees, heels and aching legs. The structured arch support reduces the excessive inwards rolling of the foot which can cause painful stress on the heel.
The deep heel cup works together with the arch support to reduce stress in your lower limbs, which then helps with pain in the knees.3
Achilles tendonitis is a common condition that occurs when the large tendon that runs down the back of your lower leg becomes irritated and inflamed. This can cause pain and stiffness along the tendon in the mornings and discomfort along the back of the heel that worsens with activity.
The Scholl In-Balance Heel Pain Relief Insole has a heel raise to reduce stress on the Achilles tendon, which may help reduce pain associated with Achilles Tendonitis. A double layer of cushioning gel with flexible support helps to relieve heel pain associated with plantar fasciitis or heel spurs.
Scholl In-Balance Arch Insoles provide gentle arch support to reduce the pressure caused by a flattening arch of the foot. They also feature a 'metatarsal dome' designed to cushion under the ball of foot area.
RB-M-03300. Always read the instructions