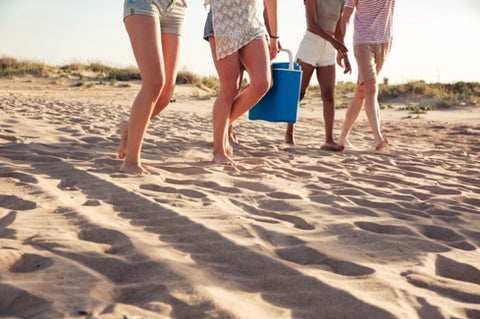 Foot care products for summer, holiday-ready feet
Get your feet holiday-ready
Bikini, sun cream, shampoo, toothbrush…. you've may think you've got the essentials sorted for going away, but what are you packing for your feet?
On holiday, your feet are out in all their glory and they actually need more pampering than usual. They could be exposed to sun, wind, sand and seawater. Sounds like heaven, but in reality, the combination can be hell for your feet.
What our feet need on holiday
You won't want to make your beach debut with dry, calloused feet. So, before you even set foot on that sand, you need to do a little bit of exfoliating. Using a specialised product like Scholl Velvet Smooth Electronic Foot File will remove hard skin effortlessly, leaving you with smoother, softer feet.
Sun, seawater and chlorine in the pool tend to dehydrate your skin, so remember to pack a rich moisturising cream especially for feet like Scholl Hard Skin Softening Cream.
Give your feet a break
Planning on doing a bit of holiday dancing? Then remember to pack a pair of Scholl Ultra Slim Party Feet™ along with your high heels. They'll give you invisible cushioning and support on the balls of your feet, so you can dance the night away pain-free.
Going walking or hiking?
If you love a long holiday hike then don't forget to pack Scholl Fresh Step Foot Spray. It will neutralise odour and leave your feet dry and fragrant all day – even in heavy hiking boots. And after a day of sweaty hiking, why not say thank you to your feet with a relaxing foot soak? Follow this with a relaxing foot massage using Scholl Expert Care Dry Skin Cream and your feet will feel five star, wherever you're staying.