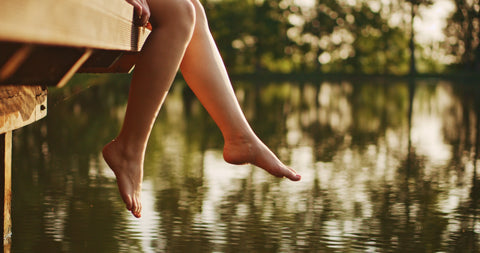 Introducing our new Expert Care Exfoliating Heel Peel Mask
What causes dry, hard and rough heels?
Hard skin usually develops when thick skin on the soles of our feet  becomes dry, rough and brittle. There can be any number of reasons for dry heels, but the main ones are pressure and lack of moisture retention in the skin.

When our feet are subjected to pressure too many new cells are formed. These areas become horny and dry with thickened hard, dead skin, especially around the heel.

Dehydrated skin is one of the biggest causes of hard skin. Once moisture is lost, the heel starts to produce thick areas of rough skin as a form of protection. 

At the beginning, rough skin may just be unsightly, but over time it can cause pain when you walk. Other causes of dry skin and hard, cracked heels, include dry indoor heating, exposure to cold weather and problems with pronation of the foot.

With over 100 years experience, we're here to help
We've been helping people enjoy healthy feet for over 100 years and are always working on ways to make foot care easier.

Which is why we're so pleased with our latest product, our Expert Care Exfoliating Heel Peel Mask.

This new product is so easy to use and clinically proven. It requires no filing or scrubbing and leaves you with visibly softer and smoother heels after just one application. Its active ingredient Alpha Hydroxy Acid (AHA) which is widely used in skin care, gently removes your hard, dead skin.
It's so simple
Scholl's Expert Care Exfoliating Heel Peel treatment takes just 60 - 90 minutes and has 6 easy steps:
Open the package, take out the exfoliating pad and place on the heel.

Unfold the protective mask and wrap around the exfoliating pad, ensure the arrow on the sticker points up.

Secure the protective mask in place using the sticker.

Keep the mask between 60 minutes and 90 minutes depending on the amount of hard skin

Remove the protective mask, rinse feet with lukewarm water. 

Peeling will start 3-5 days after use, depending on the thickness, nearly all the hard skin will be removed. 
Designed to intensely hydrate dry skin, just one application lasts up to 4 weeks. 
Tips to keep your heels healthy
Here are some simple ways to help keep your feet feeling soft and smooth between your Exfoliating Heel Peels.
Moisturise regularly using Scholl Expert Care Dry Skin Foot Cream

File your feet regularly to remove hard, dead skin using Scholl's Expert Care 2-in-1 File & Smooth Foot File

Don't shower for bath for too long as it can strip the natural oils from your feet

This also happens if your shower or bath is too hot

Wear comfortable, well-fitting shoes. Don't regularly wear open back sandals and shoes as these allow fat under the heel to expand sideways and increase the possibility of cracks on your heels
Feel Foot-tastic™ every day
So, now there's no reason to suffer from dry, hard and cracked heels - and every reason to make the most of every day. Just get your Scholl's Expert Care Exfoliating Heel Peel Masks and get ready to show off a pair of soft, smooth heels. After all, who knows where your heart will want to take you this summer. 

Feel Foot-tastic™ with our Exfoliating Heel Peel Mask, Electronic Foot Files and Dry Skin Moisturising Cream.
Products: