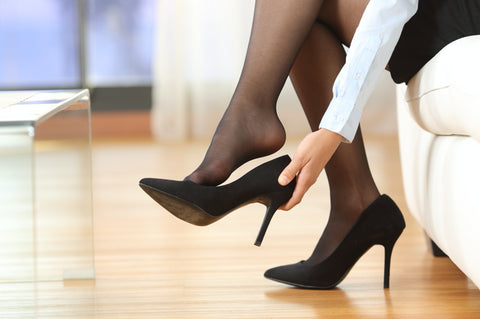 Light Legs Compression Tights FAQs & Information
Everything you need to know about scholl light legs
If you're tired of having aching legs and need a pair of tights that help prevent tired and achy legs, Scholl Light Legs™ compression tights can help. Our compression hosiery is designed to help prevent tired-feeling legs from morning to evening - and make legs look toned and beautiful. So, how do they work and what are the health benefits of wearing them?
1. What is the meaning behind the name?
Scholl Light Legs™ tights are gentle gradient compression hosiery. They help prevent tired feeling legs by improving venous return and creating the appearance of toned and beautiful legs.1 Wearing them from morning till evening will allow you to get a 'light legs' feeling all day long.
2. What is gradient compression?
Gradient compression delivers a gentle squeezing that is tightest at the ankle and gradually decreases up the leg. Compression is expressed in mmHg (millimetres of mercury). The higher the mmHg, the stronger the gradient compression, and the more effective the tights are at preventing tiredness and heaviness in the legs. This is especially beneficial if you're sitting or standing for long periods of time.1
Thanks to their Fibre Firm™ Technology in gradient compression (10 mmHg at the ankle, 5 mmHg at the calf and 3.5 mmHg at the thigh), Scholl Light Legs™ tights help improve circulation in your legs from day to night - for a light-legs feeling.
3. Who benefits most from wearing scholl light legs™
Anyone's legs can feel better while wearing Scholl Light Legs™ tights, especially if you spend a lot of time sitting, standing or in a mainly sedentary position. They are designed using a 3D knit structure, for a super soft feeling that makes them comfortable to wear all day.
4. Do I need a prescription?
Scholl Light Legs™ tights are ready to wear and do not require a prescription.
5. What colour, quality and sizes do they come in?
Light Legs™ tights are currently available in opaque black 60 Denier and two sheer 20 Denier variants in nude and black. All Light Legs™ Tights are available in four sizes: S, M, L and XL. Look at our size guide below to ensure you are buying the right size for you.
6. How long do they last?
Scholl Light Legs™ are designed using high-quality yarns, which make them less susceptible to damage when putting them on and while wearing them. The 60 Denier last up to 100 washes and the 20 Denier up to 50 washes. Their 3D knit structure makes them very elastic and helps maintain their shape after repeated wear.
7. How many hours daily should i wear my scholl light

You can wear Scholl Light Legs™ tights as many hours per day as you want. You may find them so comfortable and soft that you want to keep them on right through the day.
8. Does a run affect the compression power of scholl light legs™ tights?

A run does not affect the compression power of the tights.2 20 Denier tights are more delicate and susceptible to run than the 60 Denier, but have been designed using 'Ladder Lock technology' which helps prevent runs.
9. Can I use lotions and creams with my scholl light legs™ tights?

Yes. The Scholl Light Legs™ are not impacted by the use of lotions and creams. You'll find more information on pack, including instructions for putting your Scholl Light Legs™ on.