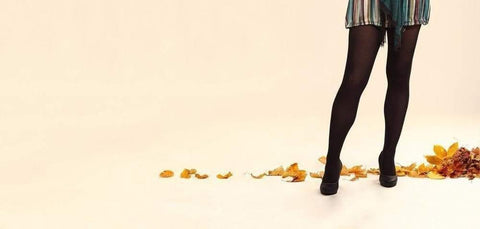 Seasonal Hosiery Guide and Tips: What To Wear & When
Finding the perfect tights to go with your outfit can be a challenge depending on the occasion and the weather. With variances in style, coverage and texture, choosing the wrong pair of tights can drastically change the look of your outfit. So, whether you are planning to revamp your autumn wardrobe or looking to add the perfect clothing accessory to your existing style, here is our seasonal guide on denier tights.
What is denier?
Denier is the weight of the fabric in your hosiery, tights and stocking. Usually, the thicker and heavier the material, the higher denier it has.
Lighter Denier
Often feeling like second skin, low denier tights and hosiery are lighter, less dense and often sheer in appearance. Ranging between 5 to 30 denier, they can be worn year round. While their sheerness can complement many dresses and skirts, especially for the workplace, they are often delicate and in many cases, are easier to snag. Scholl Light Legs™ have combatted this problem by using Ladder Lock Technology, even in their 20 denier variants.
These lighter denier tights are ideal for achieving a bare leg look and come in a range of shades to suit your skin tone. They can be the perfect choice to wear for formal or special occasions.
Great for boosting circulation along the entire length of the legs while giving you gradual support, Scholl Light Legs™ 20 Denier compression tights can be worn with any footwear and for any occasion. Available in both nude and black, they have graduated compression, so your legs feel invigorated and lighter, all day long, allowing you to fit more into your day.
Mid Denier
Falling somewhere between high and low denier, mid denier tights range between 30-40 denier and can be considered semi opaque or semi sheer. Ideal for the beginning of autumn, these tights can be the perfect fashion statement accessory to debut your new fall wardrobe. Best worn with dark colour skirts and dresses, these tights offer the perfect combination of comfort and style.
Heavier Thicker Denier
Perfect for the autumn and winter seasons, hosiery made from a heavier and thicker fabric are the perfect clothing accessory to add to your wardrobe.Scholl Light Legs™ 60 denier compression tights are ideal for the winter months. With their Ladder Lock Technology, they are designed to avoid snags and they help to improve circulation, therefore keep legs warmer in the winter months. More durable and opaque than other tights, heavier denier can be paired with a selection of clothing items. Whether for the office, date night or a night out with friends, you can wear these tights with dresses, skirts, boots and heels