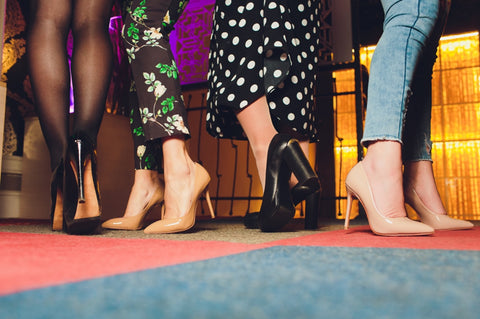 The Ultimate Party Feet Guide from Scholl
Get ready for party season with beauty routine and all night survival tips from Scholl. 
Make sure your feet are looking their best with a thorough care and beauty routine
Feel more comfortable on the night in even the highest heels
So, the party season has finally arrived, and your diary is already packed with Christmas bashes, family gatherings and New Year celebrations. Make sure your feet are prepared for all that dashing around, and maybe a little dancing, with Scholl.
Beat hard skin with your foot care routine
If hard or dry skin on your feet is an issue, add foot care into your routine. In the UK, feet are the ninth most looked after body part, if they're not completely neglected altogether. Follow our simple tips below to add foot care into your beauty routine and get the gift of beautiful feet for this party season.
Hard skin removal
10% of women won't wear open-heeled shoes because they fear that their dry, cracked feet will be seen.1 Thankfully our Scholl Velvet Smooth Electronic Foot File is ideal for removing dry compacted skin, especially if you have a large build up. You can choose which intensity rolling head will give the best results for you. The unique roller head features diamond crystals that gently buff away hard skin to leave your feet feeling silky smooth.
Don't forget to moisturise
Many of us moisturise our face and bodies daily, but we ignore our hard-working feet. It's time to show your feet a little more love. Use a moisturiser that is designed just for them like Scholl Expert Care Dry Skin Cream, which helps keep skin soft and hydrated. For intense hydration, the Scholl Expert Care Dry Skin Foot Mask is the perfect choice. This mask is non-greasy and easy to use, which means that after one simple application you'll have super soft, silky feet. A 20-minute treatment gives 24-hour hydration.
Treat your feet to a nice hot soak
Flaky, dry skin can make you feel self-conscious and stop you from showing off your feet with open heels this party season. A long soak in the bath or a quick foot spa can do wonders for your skin. Add a sprinkling of bath salts, such as Himalayan Pink Salt and you'll not only feel relaxed but you'll improve your circulation and help your skin hold in hydration to soften that dry skin.2
Exfoliate your feet with Scholl Smooth Wet & Dry Pedi to help remove dry flakes of skin and encourage cell growth too. Once you're out of the bath, don't forget to moisturise your feet with a specialised foot moisturiser too.
Get beautiful nails
Now that your feet are looking delightfully soft and smooth, it's time to add a touch of sparkle to your toenails to complete the festive look. Use the Scholl Velvet Smooth Scholl Electronic Nail Care System to transform your nails from dull and drab to shiny and fab. This clever tool delivers a salon worthy manicure and pedicure at home. It electronically files your nails into shape, then buffs away the ridges and polishes so you are left with beautiful nails.
Your feet deserve as much love and attention as the rest of your body so keep this foot care routine going with regular exfoliating and moisturising. It should help to reduce the dry skin build-up. And healthy feet will help make you feel confident and beautiful from your head to your toes, so you're ready to party.
Ease the pain of party heels
Nothing says 'big night out' like squeezing into your favourite super-high heels. But before you know it your feet are telling you they want to go home early. Luckily, there's Scholl GelActiv Insoles for extreme heels. They're specifically designed for heels higher than 8cm to give soles extra comfort and cushioning to keep you dancing until dawn, if you have the energy.