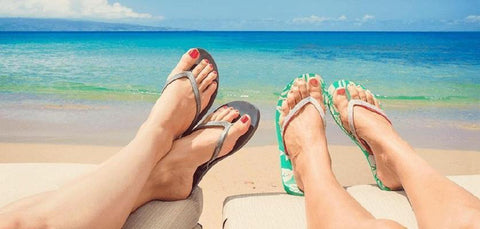 The Ultimate Guide to Treat your Cracked Heels this Summer
Don't let cracked heels take the shine off your summer
If your heels are dry and cracked, you might be dreading getting them out for summer after months of hibernation. But don't fear. Scholl can help you get your feet ready for carefree summer days of fresh air and sunshine with its wide range of products, which include our Scholl Cracked Heel Repair Cream.
Causes of cracked heels
So what are the causes of those unsightly cracked heels? Cracked heels are usually caused by insufficient moisture.1 Regularly moisturise your feet - daily, if you can.1
Cracks can be made worse in many other ways, including cold weather from the seasons before summer, wearing badly fitting shoes or even soaking in a hot bath for too long. Having diabetes can add to the problem. Ageing can be a factor too, as skin loses its ability to stretch as you get older, so cracks are more common.2
Oils are stripped from your skin under very hot water, or when you use harsh soaps.2 So, while regular bathing is encouraged to keep your skin clear, don't let the water get too hot and avoid soaps with an extreme pH level.2
Cracked skin remedies
There are many different home remedies that you could try to fix the problem. Try soaking your feet in warm water and lemon juice - the acidity of the lemons can be effective in softening rough skin, helping to prevent cracking.1-3
There are two methods you can use to treat cracked heels. Remove hard skin surrounding the cracks or rehydrate the skin. Ideally you should do both, as these methods take care of the cause, and the effect.1-3 To reduce the mess on the floor while you try to smooth out your heels, use Scholl's Cracked Heel Repair Cream K+.
Scholl cracked heel repair cream
Scholl Cracked Heel Repair Cream is clinically proven to support the natural recovery process of dry skin. It works best when applied twice a day, with visible results in just three days. It is easy to apply, non-greasy and absorbs quickly - so you can put clothes on shortly after applying. It's best to apply the cream at nighttime, just before going to bed. Putting on a pair of socks after applying will give your feet time to absorb all of the product.
Ingredients and benefits
Urea penetrates deep into the epidermis, locking moisture in and rehydrating, even through calloused skin

Lanolin is a highly refined natural ingredient that not only nourishes skin but helps it to breathe. Suitable for sensitive skin

Panthenol (Vitamin B5) helps improves skin condition

Bisabolol is soothing, to help reduce the discomfort of cracked heels

Keratin helps the natural recovery process of the dry cracked skin.