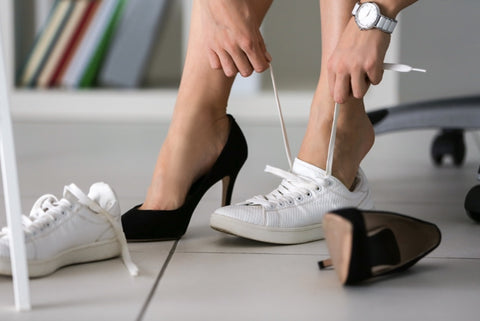 Avoid Heel Pain When Walking, In Ten Easy Steps
Right shoes, right fit1
Shoes should support your arches and cushion the impact between the ground and your feet when you're walking. Wearing footwear that lacks this kind of support, for example sandals, can increase the likelihood of encountering heel pain.1
It's also important to make sure your shoes fit correctly. Walk around the shop in a new pair of shoes before taking them to the till, checking there's enough space for both big toes to move while you walk.
Everyday insoles
Insoles can be an effective and discreet way of providing extra comfort while you walk, without making drastic changes to your wardrobe. Insoles are inserts that fit inside your shoes and act as a cushion and shock absorber between the base of your feet and the sole of your shoe (medical news – heel pain). The Scholl range of GelActiv Insoles has something for all feet, whether you walk a lot at work, or simply want a little extra cushioning while running your everyday errands.
Scholl GelActiv Insoles for Women are specially designed for the extra pressure of wearing high heels and other challenging shoes designed for female feet.
Rotate your shoes
Wearing a pair of shoes every day can reduce the support they offer. It's a good idea to mix it up, rotating between various styles so your shoes can do their job effectively for longer. Wearing flatter styles day after day can also cause foot strain.1
Bare feet on hard floors1
It's great to feel the sunshine on your toes in the summer months, so it can be tempting to go barefoot on the beach, by the pool, or having a picnic on the grass. However, walking barefoot can take away much needed support from your feet, especially on hard surfaces.1 For a discreet way to add a little extra support to summer sandals or open-toe heels, try Scholl GelActiv Insoles for Women.
Wearing shoes indoors isn't for everyone, but it can be a good idea to keep your feet supported while walking around your home, especially on hard tiled floors.1 If you'd rather not wear shoes indoors, consider investing in a pair of slippers with added padding underfoot, to keep you supported as you walk from room to room.1
Warm up time2
While a walk to the shop might not seem like strenuous exercise, warming up before you take your daily walk can be a great habit to get into especially when it comes to preventing heel pain. Stretching out can be as simple as rolling a ball under your foot for two minutes.1
Lighten your load
We all feel good about ourselves when we decide to skip the bus or leave the car and walk to work instead. However, if you tend to carry heavy equipment or books with you, you may find the pressure on your feet is increased. The more weight you carry in your bag or briefcase, the more likely you'll feel stress on your lower body. Are you carrying anything that could be left at work overnight?
Rest up between walks 1
If you're already experiencing heel pain, it's important to give your body the time it needs to rest up. If you walk to work each day, consider taking the bus or another mode of transport until your heel pain eases.1 While you might not need to take a day off work, let colleagues know that you need to reduce the time you're spending on your feet. After work, it's good to give yourself time to relax, and literally put your feet up. Elevation can be especially effective.
Find the best route
These days technology seems to have an answer for everything. If you're suffering from heel pain, consider reducing your walking time by exploring new routes. There are great apps available that can help you time your journeys and find the shortest walking routes.
Choose your path
Whether you're taking the dog to the park, or walking to the shops, sometimes it's difficult to avoid concrete surfaces. However, hard surfaces like concrete can take a toll on your feet over time.1 Consider choosing a walking route with plenty of grass, which can have a much lighter impact on your feet. If you're walking long distances to stay fit, you might even consider walking at the beach or in the woods.
Maintain a healthy weight
Just as the load we carry can add to the pressure on our feet, so too can our body weight. Doctors and specialists commonly advise maintaining a healthy body weight not only for reducing the risk of heel pain,1 but also to maintain fitness levels and help your body recover from other strains and injuries.
Walking is a great way to keep fit, but also to get around and appreciate the world around us. If you're feeling the early signs of heel pain, consider taking some of the steps above to prevent the symptoms worsening. If you are concerned or the pain becomes severe, always seek medical advice.