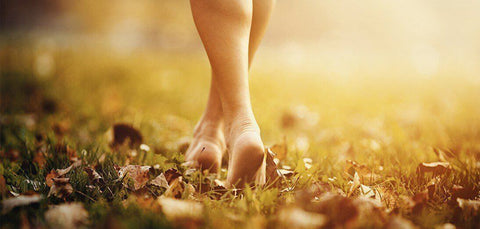 Foot Care Routine: Products for Hard Skin
Treat your feet to a routine for hard skin
Our feet are exposed to all kinds of challenges throughout the day as we walk, sit and stand for long periods of time. It's easy to neglect feet during the winter months when they're hidden away from the cold weather in warm boots. During these times when we give our feet even less attention, hard skin is more likely to develop. So, it's vital to have a foot care routine, whatever the season. Then, when summer comes, your feet will be ready for a little exposure - and sunshine.
Find out more about hard skin and what to do about it
There are different types of hard skin that form on the foot. Calluses are like the foot's defense mechanism. Hard skin forms over a cracked area of the foot as a protective barrier against further injury.1 Wearing shoes without socks, improper walking motion in high heels, overly tight or loose high heels or lack of moisture can all cause hard skin.2
Calluses are generally not harmful but can lead to painful cracked skin, bacterial infections, and bleeding if left untreated.3 They can also be more of a problem if feet are lacking regular care like hard skin removal or moisturising with special creams.
Hard skin usually develops when thick skin on the soles of our feet quickly becomes dry, rough and brittle. An excess of new cells form in response to pressure and friction points and those areas rapidly become horny and dry with thickened dead skin and take on an unattractive yellowish colour.4 As result, there can be some areas on the feet with rough, circular patches of skin, especially around the heel area or on the skin under the ball of the foot.3
Treat and remove hard skin regularly
Your feet deserve as much care as you give to the rest of your body, so it's vital to have a skincare routine, whatever the season. To maintain soft and healthy feet it's important to remove hard skin from your feet on a regular basis. When it comes to calluses, you don't need to suffer for long as a podiatrist can remove them in no time at all. But there are all kinds of foot care products that you can use in the comfort of your own home, including a full range from Scholl.
Foot care routine
You wouldn't expect the best solution to the challenge of removing rough skin from feet to be diamonds, but it's true. Scholl's Velvet Smooth Express Pedi with Diamond Crystals is an effective foot file that helps keep your feet feeling silky soft and looking their best. It gently buffs away dead skin to reveal smooth, soft skin beneath. Marine Minerals help with more gentle hard skin removal and add the perfect finishing touch.
The Express Pedi spins a specially designed micra-lumina roller with diamond crystals at high speed to gently buff away tough skin. It's effortless to use, and thanks to an ergonomically-shaped soft touch handle, easy to hold. 
Four options, ready to roll
There are four different roller heads, each with different levels of coarseness, which can to help deal with the specific hardness of your skin and give you a perfect finish. Filing is a long-lasting way to keep dry skin at bay and you might be surprised how easy it becomes with the Scholl Velvet Smooth Express Pedi. No matter which roller head you go for, they fit all Scholl electronic foot files.
Ultra fast, super safe
If you're hard-pressed for time, Scholl's Velvet Smooth Express Pedi can give you fabulous-looking feet at lightning-quick speed. The roller intensity can be changed from 'Regular' and 'Gentle Coarse' to 'Ultra Coarse' or 'Extra Coarse' if you're dealing with an extremely tough layer of dead skin. The Velvet Smooth Pink Pedi comes ready to go hard with an extra coarse roller head.
Scholl's Velvet Smooth Express Pedi is powerful, but safe. The roller head is gentle enough to remove dead skin without damaging the healthy tissue beneath. We created it because we know that treatments involving sharp tools may be a little trickier to handle.
Foot care products for hard skin
The sight of hard skin on the heels might make you want to hide them and doesn't make wearing heels any easier. Fortunately, there are effortless ways to remove hard skin, resulting in feet you'd be happy to show off.
A good moisturising cream can be used to prevent hard skin and make sure that the skin on your feet gets the necessary moisture. Moisturised skin has more elasticity and is better able to accommodate the movements of the foot. When skin is hydrated, it's less likely to become cracked and damaged over time.5 To help keep your rough feet continuously smooth and improve your foot care, add Scholl Velvet Smooth™ Daily Moisturiser to your daily foot care routine.