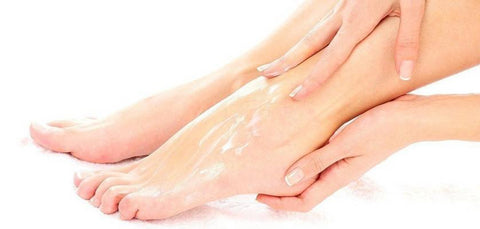 Our at Home Pedicure Routine for Soft Feet
Scholl's guide to silky soft feet
From long walks in heavy boots to nights out on the dance floor and even the occasional morning jog, it's fair to say that our feet have a tough schedule. So it's not surprising then that hard dry skin can affect us all at some point. Feet have fewer oil glands than other parts of the body, which can lead to dryness.1 However, with a simple daily foot care routine, you can keep your feet smooth and ready to step up to any challenge.
The importance of moisture
If you want to avoid dry skin, it's important to make sure your feet are hydrated. This is where a quality intense moisturiser comes in. Scholl Expert Care Dry Skin Foot Mask or Scholl Expert Dry Foot Cream are both easily absorbed by the skin, helping to retain its own natural moisture in the outermost layer. They can also act as an extra barrier, protecting your skin from the elements. This foot mask and cream can be used regularly, after a foot scrub or even just a shower.
Don't be too tough when you buff
Exfoliating is a great way to tackle dry skin but it's important to remember even hard skin can get damaged. Any nicks and raw skin may take quite a while to heal and might even cause infection.2 It's better to scrub lightly on a weekly basis, rather than overdoing it in one go. In fact, the best way to keep those feet silky soft is with regular pedicures. And we don't mean the expensive professional ones.
Read on for tips on how to master a DIY home pedicure.
Are your giving your feet enough tendor loving care (tlc)?
Caring for your feet is just as important as caring for the rest of your body, and regular pedicures help your feet stay happy, healthy and looking good. But that doesn't have to mean splashing out on lots of expensive trips to the salon – it's just as easy to give yourself a professional level pedicure at home.
Our at home pedicure routine for soft feet
Start off with your toenails. Remove old nail polish and cut your toenails straight across, using specialised toenail scissors for best results.

Soak your feet in a basin of warm water for 10-15 minutes then sit back, relax and enjoy some downtime while your skin softens.

Now it's time to remove the dead skin. A specialised product like Scholl Velvet Smooth Electronic Foot File System buffs away hard skin effortlessly leaving you with beautifully soft, smooth skin in no time. Choose between settings either gentle coarse: for the gentle removal of hard skin and perfect finish, regular coarse for normal hard skin, extra coarse for very hard skin and ultra coarse for the toughest skin and a perfect finish. Once you've removed the hard skin, pop your feet back in for another little soak.

And now for the bit your feet have been waiting for. Time for a lovely moisturising foot massage. It doesn't just feel good, it also improves blood circulation. Try Scholl Expert Care Dry Skin Foot Mask for maintaining the moisture balance in the skin.

Now your feet are smooth, soft and moisturised you can slip on a pair of soft, clean socks to keep them warm and allow the moisturiser to soak deeper into your skin.
Now, don't leave it too long until your next pampering session. Regular pedicures are the secret to healthier feet you'll be more confident showing off.