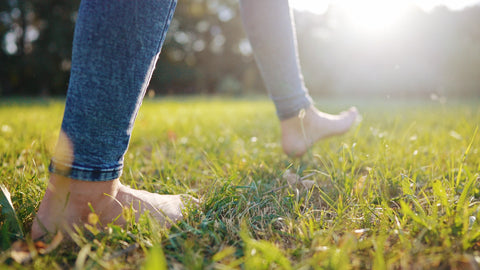 Footcare Throughout Your Life: How to Take Care of Your Feet
Your feet are constantly changing no matter what age - whether that's daily as you exercise or over your whole lifetime. At each stage of your life there's different ways you can look after your feet to prevent age-specific foot issues.
When you're young, your feet are weaker and still growing. You're more likely to develop foot conditions like 
ingrown toenails
 or 
foot odour
. As you get older, your feet develop and get stronger, but they may need some extra TLC.
We take a look at how a footcare routine that focuses on hygiene, support and comfort will help you look after your feet - no matter what age you are.
Hygiene
Great foot hygiene, means happy feet.
Foot hygiene is the easiest thing to implement into your footcare routine. It is as simple as changing your socks everyday. And it means you can avoid infections like fungal nail infections. 
Fungal nail infections
 affect up to 12% of the population. As you get older, the infection is more common.
Scholl's hygiene tips:
Drying your feet thoroughly after showering, bathing or swimming.
Wearing the right size shoes that prevent rubbing and let your feet breathe.
Wearing clean socks every day.
Wearing shower shoes in communal showers or changing rooms.
Spraying your shoes with Scholl's Antifungal Shoe Spray.
Support
Give your feet some cushioning
Most people will have walked 75,000 miles by the time they reach age 50. Let's make it another 75,000 miles with some foot TLC. Whether this is with extra cushioning and support with 
insoles
 in your shoes, or making sure to include footcare into your beauty regime. Whatever the issue, Scholl is here to support your foot needs, wants and wishes!
Insoles
Insoles can be a great remedy to support your feet as you get older. Scholl's GelActiv™ range has two layers of gel that help your feet feel comfortable and ease the pressure - helping to cushion every step. They also effectively absorb micro-shocks caused when your feet hit the ground.
Comfort
Look good, feel good
Incorporating the practices below into your routine not only ensures ultimate foot comfort but it also contributes to having beautiful, healthy feet. Happy feet means a confident stride.
Stretch your feet
Regular 
foot stretching exercises
 can help maintain the flexibility and mobility of your feet. One effective stretch you can try is the Toe Extension stretch [1]:
Sit with feet flat on the floor, placing one foot on the opposite thigh.
Pull your toes toward your ankle, feeling a stretch in the bottom of your foot.
Hold your stretch for 10 seconds, massaging the arch of the foot. Repeat 10 times on each foot.
This stretch also helps with 
Plantar Fasciitis
 and Heel Pain!
Moisturise your feet
Moisturising your feet every day is another key step in footcare. Applying a daily moisturiser, like Scholl's 
Dry Skin Foot Cream
 can keep your skin soft and prevent issues like 
calluses and corns
. Pay extra attention to the heels and the balls of your feet!
Massage your feet
Massaging your feet can provide immediate relief from fatigue and stress. You can use your hands or a foot massager to knead the soles and arches. Massaging increases blood circulation and relaxes the muscles, promoting overall foot comfort.
Along with these exercises consider using insoles such as Scholl's LiquiFlex™ range, which have been developed by podiatrists to give comfort for those on their feet all day.
For more information about how to look after your feet as you age, read 
Age UK's Fitter Feet blog
 [2].
References
[1] 
https://bhamfoot.com/9-exercises-to-keep-your-feet-strong-and-flexible/
[2] 
https://www.ageuk.org.uk/information-advice/health-wellbeing/exercise/fitter-feet/
Related products